Dedicated To You But You Weren't Listening - The Concise SOFT MACHINE Handbook - Strange Things - Volume 1 * Number 6 - Summer 1989
THE CONCISE SOFT MACHINE HANDBOOK
by John Speeding
I was working the hole with the sailor and we did not do bad.


So begins The Soft Machine, a William Burroughs novel from 1961. That same year, the posse of Canterbury misfits who'd assume that same name began to interact.

The Simon Langton School has assumed a latent reputation as a place of education for the sons of 'intellectuals'. Robert Wyatt, however, only remembers a dull grammar school with little or no cultural direction. Perhaps then it was only coincidence that something of an avant-grade filtered through its upper forms.

Mike Ratelidge was eighteen and about to read Philosophy at Oxford, but was also known to play jazz-based variations with a saxophonist, Brian Hopper. The afforementioned Robert, two years younger, had meanwhile befriended Brian's brother, Hugh Hopper, in a mutual consuming passion for music. A final piece of the jigsaw, David Sinclair, was a further year behind and, in Robert's words, "played piano at morning assembly." He also recalls that there was little relationship across the forms, "I only met Mike twice, once when he was a prefect. He came up to me and said, 'I believe you have some Cecil Taylor records. Can I borrow one?'"

Since the dawn of the 1980s, Robert Wyatt has picked at the balloon which suggested the Canterbury scene's idyllic genesis. Despite his self-effacing honesty, a powerful image of such comparitive youngsters, embracing the wild jazz of Mingus, Monk and Coleman with the 'Please Please Me' revelation still a year away remains, nonetheless, romantic.

The chronology here gets somewhat sketchy. At some point the stilled Wyatt quit school to study sculpture at the local Art College. Its regime proved as restrictive and he abandoned study for a penniless trip to Spain. At some point, either here or on a
previous visit, he met one George Neidof, who returned to Canterbury with him and stayed with his family, in return for which he taught Robert drums. Neidof also knew Daevid Allen, who's introduction to the circle was crucial.

Allen's exploits are detailed elsewhere in this issue, but his early involvement was not only inspirational, but innovative. In early 1963 both Hugh Hopper and Robert joined him in his London flat. Hopper recalls playing with Michael Horowitz, backing his poem, 'The Dalai Lama Is Coming To Tea', "with our very loose version of Bizet's 'Carmen'."

Hopper and Allen then made plans to travel to Tangier and play at a club called the Fat Black Pussycat. Instead Hugh joined Daevid in Paris, making the tape loop experiments which were later essential to The Soft Machine canon, before returning home with Wyatt and forming The Wilde Flowers.

Here they were joined by the elder Hopper, Brian, Richard Sinclair and Kevin Ayers. Mutual fashion rather than a common education had brought Kevin into the group, who's debut gig was at Whitstable's Bear and Key Hotel. "They try for an Indian
influence," noted the 'Canterbury Gazette', "but their Rolling Stones haircuts make the fans go crazy." The Wilde Flowers set was British R&B, some Beatles and some originals, a flavour of which was caught on a brief 1965 demo. recorded at the unlikely
Wout Steenhuis studio. The groups leafs its way through two covers. Chuck Berry's 'Almost Grown and Mose Allison's reading of 'Parchman Farm', alongside two originals, Hugh Hopper's reflective 'Memories' and Kevin's rumbustuous 'She's Gone'.

In common with their future aggregations, The Wilde Flowers were notoriously unstable. Ayers left, a new guitarist, Graham Flight, appeared and vanished and Richard Sinclair traded rhythm guitar for college. Robert stopped drumming in favour of permanent vocals. Richard Coughlan replaced him at the kit. and one Pye Hastings latterly joined on lead. By 1966 The Wilde Flowers were altogether smoother: they entered competitions both for Melody Maker and Radio Caroline, winning the latter with a heady mix of 'Sunny', 'Papa's Got A Brand New Bag' and 'You Put A Spell On Me'. This line-up, however, crumbled around October 1966 with the departure of Robert Wyatt. (Hugh Hopper quit some five months later, the rest then added David Sinclair and became Caravan.)

Wyatt, Ayers and Daevid Allen had reestablished contact and a frustrated Mike Ratelidge had left university. The new group flirted with several names, another William Burrough's title, Nova Express, was considered, but Soft Machine was finally selected with Alien telephoning the author for permission and a blessing.

Following a disastrous opening at London's Zebra Club. Daevid's connections with the fledgling London Underground; John Hopkins and the Indica gang, provided the Softs with their spot at the party to launch 'International Times' and subsequent residency at the hallowed UFO. On these early dates the group was supplemented by Larry Nolan, an American guitarist who vanished as mysteriously as he appeared, and by Mark Boyle's evocative light show, which formed the perfect counterpoint to a collective increasing it's weirdo quotient. Pete Frame recalls their appearance at The 14 Hour Technicolor Dream in April 1967.

"Robert Wyatt huffing and puffing and singing from his drum stool, Kevin Ayers with rouge on his cheeks and u black cowboy hat surrounded by a huge pair of glider's wings and Daevid Alien with a miner's helmet (light switched on) and a fixed maniac stare."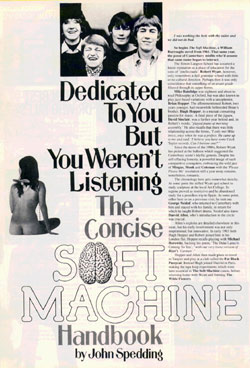 In the meantime Kevin had tried to place some of his songs with The (New) Animals, an effort which brought the Softs into contact with Mike Jeffries and Chas Chandler. The former became their manager, the latter their early producer, responsible for the topside of the group's first single. 'Love makes Sweet Music'.
Written by Kevin at his commercial best, it moved with an effortless, magical ease, both confident and irresistible. Its coupling. 'Feelin Reelin' Squeelin", was produced by the itinerant Kim Fowley and reflected The Soft Machine's wilder conceptions with Ayers' maniacal growl and Allen's liquid guitar.

Despite soaring to the dizzy heights of No.28 on the Radio London chart, 'Love Makes Sweet Music' made little impression and Polydor dropped any option. A series of demos were subsequently cut at De Lane Lea studios, with Giorgio Gomelsky producing. These tapes have cropped up in various guises, most recently as Jet Propelled Photographs. Although certainly rough and ramshackle, they mix missed notes with a raw ambition and are
genuinely engaging.

The songs are split between Robert, Kevin and Hugh Hopper, now on the fringe of the group as their roadie. Both 'She's Gone' and 'Memories' are resurrected from The Wilde Flowers tape. The latter is as haunting as the group from this era could be, while
other highlights appear in the splendid 'I Should've Known' (freak-out via the 'Shotgun riff) and Robert's melancholic 'That's How Much I Needed To Know', the melody of which would, alongside that of 'You Don't Remember', reappear, shorn of its adolesent lyric, on Third's 'Moon In June'. Indeed much of the collection would surface elsewhere; Kevin's 'Jet Propelled Photograph' became 'Shooting At The Moon', while 'Save Yourself" and 'I Should Have Know' were recut for the first official album,the former relatively intact, its counterpart, however, was somewhat remodelled and became 'Why Am I So Short'.

The boys then recorded a third 'She's Gone', this time with Joe Boyd producing. Scheduled as a single, and featuring Bill Burroughs on "barely audible aphorism", it was never released as such, although it was subsequently aired on Triple Echo, a 1977
retrospective. 'She's Gone' also marked the end of Daevid Allen's involvement, his de facto deportation reduced the line-up to a trio and increased the "jungle warfare" (Allen) simmering within the group.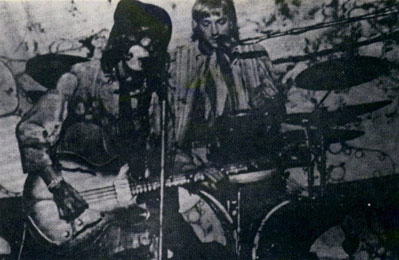 1967 ended with the Christmas On Earth concert, 1968 began with a marathon American tour, supporting Eire Apparent and the Jimi Hendrix Experience. Each was a part of the Jeffries stable, indeed Hendrix had some rhythm guitar to an early, rejected 'Love Makes Sweet Music' while Ayers, Wyatt and Alien sang at the back of a similarly canned 'Stone Free'. At least that's the legend. And while we're weaving webs, don't forget Hendrix makes a splintering, but brief, appearance on Eire Apparent's only album. (UK pressings only!) The U.S. tour lasted six months, and was gruelling. In an effort to diffuse the instrumental strain, guitarist Andy Summers was briefly drafted in, but he switched instead to The New Animals. "Nightmare-ish" was how Wyatt described one particular date at Madison Square Gardens, where the touring party was supplemented by Albert King, The Chambers Brothers and Big Brother and the Holding Company. The marathon closed at the Hollywood Bowl and an exhausted group was flown back to New York to cut their debut album.

Ostensibly produced by Tom Wilson, ("We'd do a take," remembers Wyatt, "go hack into the control room, and he'd he on the 'phone to some girl."). the set is a triumph of imagination over adversity, and captures many of The Soft's most thrilling moments. In 'So Boot If At All' the group capture the essence of Underground improvisation, and match the cascading genius of 'Interstellar Overdrive'. Another Hugh Hopper revival. 'Hope For Happiness', provides an ideal, stylistic introduction, while the rest of the record matches Kevin's angular eccentricity, the studied seriousness of Ratelidge, and Robert's heartfelt passion.

On completion, The Soft Machine disintegrated. Wyatt stayed behind in New York, completing 'Moon In June' from his diary cum scrapbook, Ayers made for Ibiza and Mike flew back to London to compose. By winter Robert was in L.A., writing and recording
enough for two demo albums, one featuring the full 'Moon In June', the other fragments of older Hugh Hopper material, rearranged and given new lyrics, much of which appeared on their next album.

In the meantime Probe had released The Soft Machine. It became a cult success, and a demand grew for some kind of group to tour behind it. Wyatt and Ratelidge were, somewhat guardedly, reunited, but Kevin Ayers, who's quirky compositions were at odds with the studious keyboard wizard, was now uninterested and had sold his bass to Mitch Mitchell.

Hugh Hopper provided the natural replacement and a reconstituted Soft Machine began rehearsing almost immediately. They openned with a blow at The Roundhouse with Andy Summers and Zoot Money, before appearing, properly, in public at The Albert Hall alongside Hendrix and the Traffic substitute, Mason, Wood, Capaldi and Frog. A second album, Volume Two, was recorded over February and March 1969, and although another wonderful work, the divisions within the group seemed wider than ever. A scan of the titles reflects the gap: "Thank You Pierrot Lunaire'. 'Have You Ever Been Green'' (the surreal Wyatt), against the formal eccentricity of 'Fire Engine Passing With Bells Clanging' and 'A Door Opens And Closes', two of Mike Ratelidge's moments. Although inevitably distanced from The Soft Machine's paisley patterns, the new collection boasted a real maturity, and a sound refined to suit a studio environment.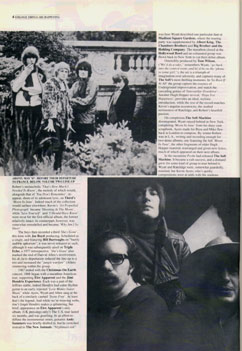 Brian Hopper had re-emerged on the album to add both soprano and tenor sax, an indication of the group's future development. Between October and the end of 1969, the trio was augmented by a radical horn section; Lyn Dobson (flute & soprano sax), Elton Dean (alto sax & saxello), Nick Evans (trombone) and Marc Charig (cornet). Their collective pedigree included Manfred Mann, Keith Tippet and Bluesology, but the experiment proved too expensive and was dropped.

Although the septet would not offically record as such, a session was cut for Peel's 'Top Gear' that November. 'Esther's Nosejob' and 'the 'Mousetrap' /' Noisette' /' Backwards' / Mousetrap Reprise' workout thus gave a glimpse into a somewhat unrealised potential, hut also showed the eclipse of the drummer's own ideosyncratic direction. The session was also revived on Triple Echo, along with two corresponding pieces. The first featured the basic trio on an inspired reading of Robert's 'Moon In June', the lyric of which was specially written for the occasion to include references to the programme, BBC tea, Caravan and Pink Floyd. It was, and is, quite simply, a masterpiece.

The remaining session was from May 1970, and contained three Ratelidge compositions, 'Slightly All The Time', 'Out Bloody Rageous' and 'Eamonn Andrews', the first two of which appeared (in different forms) on Third, the Soft Machine's next album.
Although it featured several extra musicians, including Dobson and Evans, Elton Dean remained the only permanent addition to the Wyatt/Hopper/Ratelidge triumvurate. A double set spread over four basic pieces, the estrangement between Robert and the rest was near complete. They hated 'Moon In June' and initially refused to play on it. Wyatt added his own bass and keyboards and although both Hugh and Mike would latterly play a minor role, it is, obstensibly, a solo effort. The ultimate irony, perhaps, was that Robert admired what the rest were attempting, especially Hopper. "(Hugh) was the most creative. Excellent though Mike's things were. they could have been written by Herbie Hancock or Wayne Shorter. It was putting us on the fringes of other people's worlds rather than at the centre of our own. To he to, say. Tony Williams, what The Stones were to Muddy Waters, was not really my ambition."

The last act of defiance by what was recognisably the 'old' Soft Machine came in August and their performance at the Albert Hall's Pop Promenade. Sandwiched between the respectability of an archaic music establishment was a somewhat rough-hewn set, evenby the group's own standards, but one now captured on a new-ish release, Live At The Proms 1970. Whatever the contemporary controversy, the invitation to appear cemented the ascendant seriousness, as the more formal programme suggested.

Now somewhat alone, Wyatt embarked on a solo album, the punning End Of An Ear. Those expecting a further stream-of-consciousness were caught somewhat surprised, this was a sometimes impenetrable mix, but one which allowed an important breathing space. It was, in many ways, the instrumental interludes of the early Soft Machine, but without the songs or hooks to 'bookend' them together. Mark Charig and EIton Dean provided the woodwind, David Sinclair the organ, while Robert drummed (naturally), sang a little and began his experimentation with keyboards. If The End Of An Ear was autobiographical, it was in the titles; 'To Saintly Bridget' (Bridget St.John), 'To Caravan And Brother Jim', 'To 0z Alien Daevid And Gilli', although the sometimes furious stew
which spilled out in places doubtlessly reflected the confusion of the times.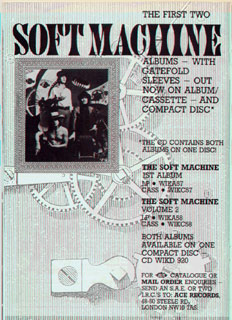 Wyatt indeed took a sabbatical and toured with Kevin Ayers and the Whole World before returning to The Soft Machine's fold for Fourth, a dour, paired-down version of its predecessors. His percussion aside, Robert's contribution is minimal, and a suggestion, to manager Scan Murphy, that he might like to try something else, was eagerly seized upon by Hopper and Ratelidge. Wyatt was fired in September 1971, and with him went the heart, soul and humour of a group, once excellent, now doomed to a future of cold mathematics.

Heartfelt thanks are due to Ian McDonald, Pete Frame and John Platt for providing the original detective work and several of the above quotes. Kevin Ayers' subsequent erratic, but more often than not, inspired career can he found elsewhere in this issue, while What happened to Robert Wyatt will he divulged in a forthcoming volume of this magazine.