Who is ROBERT and WYATT matters - Pulse! N° 170 - May 1998


WHO IS ROBERT AND WYATT MATTERS
AVANT-POP'S ELDER STATESMAN ON HEGEMONY, HENDRIX AND HEAPS OF SHEEP

BY BILL FORMAN
PHOTOGRAPH BY GUIDO HARARI


Given free will, Robert Wyatt would prefer to live his life as part of a dance rather than as if there were some great weight on his shoulders. "Most people think they ought to stop being trivial and get serious, but I'm trying to get light from heavy," says Wyatt in the wake of Shleep (Thirsty Bar), the Soft Machine founder's most congenial and collaborative album in many years, featuring contributions from Brian Eno, Paul Weller and other friends, old and new. "When you let it, life can be so heavy, gravity becomes too great, and you can hardly function. And I think the thing is to somehow become some kind of gas and float above it."

Wyatt has surely had his run-ins with gravity: Both his touring and drumming career came to an abrupt end in 1973, when a fall from a third-story window left Wyatt paralyzed from the waist down. By that point, he had already quit his band Soft Machine and started another called Matching Mole (pidgin French for Soft Machine). Forced to abandon the custom Maplewood kit that Jimi Hendrix Experience drummer Mitch Mitchell had given him after Hendrix and the Softs toured America together, Wyatt switched to keyboards and set about reconstructing himself as a solo artist.
Wyatt's voice, a plaintive countertenor he once likened to "Jimmy Sommerville on valium," has always been unconventional yet oddly accessible. His sad choirboy vocals float serenely through an ambient soundscape of understated keyboard and percussion, colored by the subdued improvisations of his avant-jazz friends. If the most blatant jazz-rock fusion acts combined an excess of technique with a paucity of ideas, Wyatt's approach was more fission, a contemplative yet compelling mix of free jazz, naive pop and English eccentricity.

A year after the accident, Wyatt recorded an altogether unlikely cover of the Neil Diamond-penned Monkees single "I'm a Believer," which became a hit and landed him on the BBC's Top of the Pops. Accompanied that evening by Pink Floyd's Nick Mason, Henry Cow's Fred Frith and future Police-man Andy Summers, Wyatt lipsynched his way through clenched teeth after a BBC producer insisted that his wheelchair was unsuitable for prime-time televiewing.

Meanwhile, back in the real world, Wyatt's music grew simpler, more direct, and-with the 1975 death of his friend Mongezi Feza - intensely political. "When Mongezi died, I suddenly realized that apartheid was killing my closest friends, and that's when politics right across the world becomes just as personal as anything can be," says Wyatt of the exiled South African trumpeter featured on Wyatt's Rock Bottom and Ruth Is Stranger Than Richard (two of the six Wyatt albums Thirsty Ear plans to reissue this year). "You can be theoretically anti-racist or anti-apartheid and say, "I don't think people should be allowed to have a kind of internaI slave population servicing their businesses" - which is what South Africa was, a kind of internaI colonization - and you can know that abstractly. But when you actually have South Africans who come here just so they can play music together and when, in their early thirties, they start dying because you find out they've been living on no food and too much gin from the gin palaces since they were about 9 years old, and even after coming to England, they would be so terrified every time they saw a policeman that they would nearly have a heart attack. Mongezi Feza died a quite unnecessary death of double pneumonia whilst he was in a psychiatric hospital, and he was really only in a psychiatric hospital because he just couldn't handle whether he was allowed to deal with white people or not. He was so confused about what the relationship now was. So then he died. I had actually planned to make a lot of records with him. I had thought I' d found my ideal partner."

Wyatt's songwriting reached its political apex with 1985's Old Rottenhat, a starkly beautiful album whose musings on the anti-imperialist theories of Noam Chomsky and the troubles in East Timor earned a mixed critical response. "WeIl, I'm really glad you heard [the album' s minimalist aesthetic] as clarity, because some people heard it as not much going on, which is missing what was going on, I think," says Wyatt. "I mean, there are some people who just don't like my politics, and I understand that, but sometimes they sidestep that by saying they don't like my style. I don't mind. You can't tell people what to listen to. You have to be grateful if they listen to anything you do, really."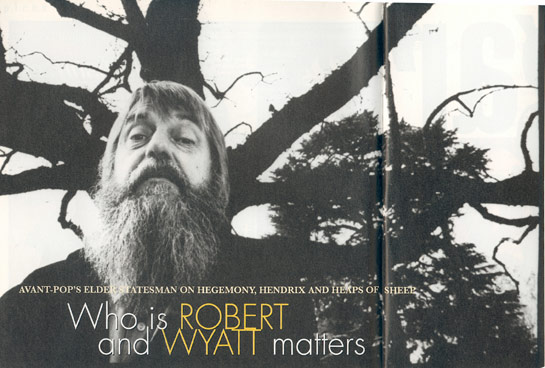 It was also during the mid-'80s that Wyatt released a series of 7-inch cover singles on Rough Trade, including the Billie Holiday classic "Strange Fruit," an anthemic remake of Chic' s " At Last I Am Free," and the anti-war ballad "Shipbuilding," which Elvis Costello wrote for Wyatt so that he could hear it sung by the saddest voice in the world. "I think part of the job of a-can I use the word artist? - is not just to make objects, but to find the beauty in objects that already exist and to represent it. It's not that something has to be new or indeed perhaps that anything ever can be new, but somehow you must make it new. And that's really what I wanted to do with those songs."

As a vocal interpreter, Wyatt prefers the understated style of, say, Chet Baker over the melismatic maneuvers that have become de rigueur for contemporary jazz vocalists. "I've listened to singers who are kind of instrumentalists in denial," laughs Wyatt without naming names. "If they really think the voice is just an instrument, they're wrong. The fact is if somebody is going 'Oooda-da-deeda-dee-da,' you know it's a person doing it and there's no way it's like listening to a trumpet or a saxophone. We all tend to listen to voices quite differently, which perhaps goes back to childhood when we listened out for our mother's voice. So the human voice carries with it something that no other instrument does, and you just have to remember that when you're singing."

Wyatt says he someday hopes to record an album's worth of Gershwin-era covers: "You know, the Nazis' definition of degenerate music was mournful Jewish tunes sung by Negroes to sexual rhythms, or something like that. Now if I were an American, that's something I'd be really proud of. So I really would like to do some more of those mournful Jewish melodies. But if I'm getting ideas for my own tunes, they take precedence. Not because I think they're more important, but because if I don't do those, nobody else will."

Which brings us back to the long overdue Shleep, Wyatt's first full album in seven years. This time out, politics seems to have taken a backseat to semiotics, with Wyatt's crafty wordplay evoking the more enigmatic lyrical terrain of his early work. "I'm not by nature into either confessional personal songs, particularly, or polemics in songs, particularly ," says Wyatt. "Even when I was writing a lot of songs with overt political references, an awful lot of things I was thinking about didn't get into the songs. Songs aren't just sentences set to music. They have to come through [in] that hallucinatory form. They come from somewhere else.

"Actually, a number of Shleep's songs came from Wyatt's wife Alfrede Benge, whose poetry he is forever finding around their old wooden dacha deep in the English countryside. Thus the title cut, recorded over Alfie's mild objections, with its image of an insomniac's sheep-counting gone wrong:

Each sheep, where it landed
refusing to exit, remained.
(Creating a vast writhing
heap growing fast on the left).
"I couldn 't waste that, could I?" laughs Wyatt. "She thought it was a bit trivial, but it just made me laugh, and it made Brian Eno laugh, too. So we did it anyway. You know, she writes these things and then I find them and then that's what happens. When you're in the same house with somebody, you can't hide everything."

Wyatt has paid tribute to his wife on past recordings, most notably on the surreal " Alifib" and poignant "P.L.A. (Poor Little Alfie)." On Shleep, that tradition continues with "The Duchess," a loopy number in which Wyatt vows:

"My wife is old and young,
so sweet with her poison
tongue,
on her evenings off she
blackmails toffs, but her
secret's safe with me."
"We actually wrote 'The Duchess' together, but I got writing credit because she didn't want to be associated with such silliness," he says of his partner, who might have known better after so many years. "That's right," says Wyatt with a laugh, "it' s a bit late now, isn 't it?"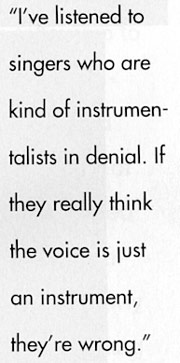 Alfie isn 't the only old friend who turns up on Shleep. Roxy Music vets Eno and Phil Manzanera (who lent Wyatt the use of his Gallery Studio) also help shape the sound, as does jazzman Evan Parker and trombonist Annie Whitehead. Citing the "courage of old age," Wyatt even dusted off the trumpet he hasn 't played on record since Soft Machine days. "My excuse is this," says Wyatt, sounding only slightly apologetic. "The particular people who make the exact sound I want to hear on trumpet - Mongezi Feza, Don Cherry, Miles Davis and Chet Baker - have now all died. I really love the great jazz trumpet tradition, you know, people like Clark Terry and Maynard Ferguson and the Marsalis School and now Roy Hargrove, but I'm not trying to do any of that. I'm just trying to extend the range of the song when I'm playing."

With one foot in the folksong tradition, Wyatt has always been more tolerant of simplicity than his jazz friends: "Given that I'd been brought up on the sort of harmonic preoccupations of Bartok and Thelonious Monk, how could I possibly be interested in people who use basic chords and rhythms? And the point is that there is something else going on which transcends the obvious analysis of whether or not this is a complicated or interesting chord. There's something way beyond that with a good singer, someone like Bob Dylan, who just has one of those magic voices."

Wyatt, in fact, pays tribute to Sir Bob on the "Subterranean Homesick Blues" - inspired "Blues in Bob Minor," which culminates, by the way, in a caution not to let the "gringos grind you down." ("So anybody who says there's no politics on this, just point them to that last line," Wyatt says with a laugh.) It's also one of the tracks that features Paul Weller, who was recording down the hall and volunteered his guitar services, just as Jimi Hendrix once stopped by a Wyatt session decades ago and asked if he could try adding a bassline ("You wouldn 't have to use it," whispered Hendrix) . "Funny enough, Paul Weller is the first person I've met who had that same intensity of presence when you're in the room with him, but is equally gentlemanly and modest about what he can do. Hendrix was always worried that his singing wasn't good enough, or his guitar solos were too long or he couldn't write songs as interesting as Bob Dylan. ln that sense, he was almost the opposite of most other guitar legends that l've met, who were very full of themselves indeed. Hendrix was just a considerate person, really; can you imagine that in the '60s!?"

Shleep also boasts a kind of reunion with former Soft Machine mate Hugh Hopper, who provided the melody for "Was a Friend." "He occasionally writes a song that's too simple for the jazz treatments he'll use for his own groups, so he'll send them to me and ask if I would like to use them," says Wyatt. "But we haven't actually met for a long time." Still, Wyatt's lyrics for "Was a Friend" convey a sense of bittersweet reconciliation, a sentiment that resonates throughout much of the new album:


"Old wounds are healing.
Faded scars are painless -
just an itch.
We are forgiven. It's been a
long time."

"There are some songs that you couldn 't even write in your twenties, because you don't know that yet, and I think this is probably one of them," says Wyatt. "That's one of the advantages of surviving, you get time to find these things out."