Soft Machine's no ordinary trio - Melody Maker - July 5, 1969
Soft Machine's
no ordinary trio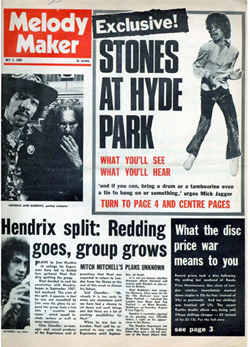 CECIL TAYLOR, Scott La Faro and Elvin Jones may seem unlikely influences on a trio who regard themselves as part of the pop scene, but they were the original inspiration of Mike Ratledge, Hugh Hopper and Robert Wyatt who currently make up the Soft Machine with the occasional addition of Brian Hopper on saxes.

But then Soft Machine is hardly one of your predictable pop groups, and generally favour lengthy, complex compositions with unusual time signatures.

The group originally grew from a collection of friends in Canterbury who made up a variety of personnels and groups over the years. The first step, says Mike Ratledge, was an avant garde jazz group in 1962 based on the music of Cecil Taylor. A bit before its time?

"That's what the public thought, too" admits Mike. "We did a couple of weeks at the establishment and then the leader, Daevid Allen quit and went to Majorca while I went to Oxford University.

"The Soft Machine may still be a minority-appeal group, but, for us, it is the music that is important. And we certainly haven't done badly. We do a fair amount of college work here and quite a bit abroad - Holland, France, Switzerland plus seven months in America. That American trip was too much, we were working every day with no time to rehearse and just had to take time out to rethink when we got back.

"A large percentage of our music is improvised, although perhaps not so much of it recently as the structures get more complex. All our material is original."

The group has completed a new album which is released in the States this week and may be followed up with another American tour. The LP won't be out in Britain until September.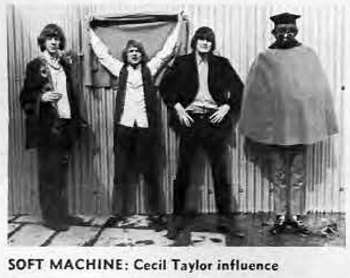 "We don't plan ahead," admits Mike. "We suffer from the problem of being three individual people and the group is run on a weak kind of democracy. Actually that side of it is easier since we cut down to three instead of four - one feels more uneasy about ganging up on one person."

As somebody whose first inclinations were towards jazz, does Mike get full satisfaction from the current set-up?

"I don't feel we have copped out in any way, if that's what you mean," he says. "Our present style is forced on us because it is the best way these particular people can work together.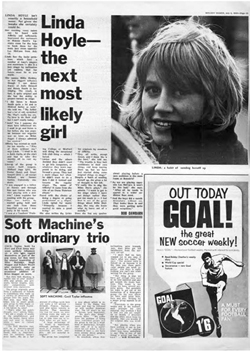 And there is really nothing you can't use when writing for the group.

"The thing is that we have got enough time now to do new material and also get outside the music business. Film music is one thing, we have several projects going. But generally we want to get out of the limitations of a three-piece group. On the new album we have used tenor horn, flute and alto. Writing for a larger group appeals to all of us.

"Everybody in the group writes and, at the moment, each arranges his own material. One problem I find is that you can get caught up on details of structure and the whole piece loses its identity, then you wonder if the original idea was worth it.

"But playing when you have nothing to say is just as important as playing when you have something to say. This is one of the things a group just has to learn".


Bob Dawbarn