Soft Machine - Beat Instrumental - April 1969


SOFT MACHINE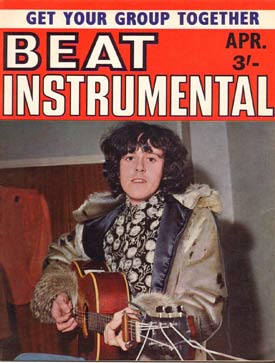 WHEN the beads, bells and heady atmosphere of psychedelia first came to our shores about two years ago, two groups in particular emerged and became adopted as musicians by appointment to the hippie movement. One of these was the Pink Floyd. The other was the Soft Machine, with Mike Ratledge on organ, Robert Wyatt on drums, and the now departed Kevin Ayers on bass.

But while the Floyd found themselves hot commercial properties, churning out hit singles and a first album that sold by the ton to a far wider public than just the flower crowd, the Soft Machine never achieved any breakthrough to mass audiences, though they started off with an equally fanatic following. Their performances were perhaps more pioneering than the Floyd's enlisting the considerable talents of Mark Boyle's light show and the dancing of Graziella Martinez.

Much to everyone's surprise, the Soft Machine disappeared from the scene practically without trace. Only recently has anything been heard of the group after an absence of well over a year, their protracted vanishing act being due to an extended visit to the U.S.A., where they reaped much success.

Much more success, that is, than came their way in England. They had one single out on Polydor that did nothing spectacular, got into dire financial straits and nearly became the traditional starving musicians. Often they would not even have enough money to buy petrol for getting to a gig.

The turning point came when their manager, Mike Jeffries, who also looks after the Hendrix Experience, arranged for the group to go on a concert tour of the States with Jimi. At this time, America was far more receptive to new ideas in pop, and the Soft Machine's style, relying to a far greater extent than previous pop on improvisation — as opposed to apeing American blues guitarists — was certainly a marketable commodity. They had already won many converts in France and Holland, and America was the ideal place for the group to concentrate their energies.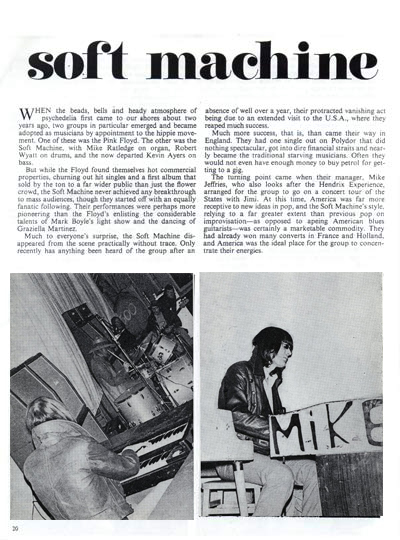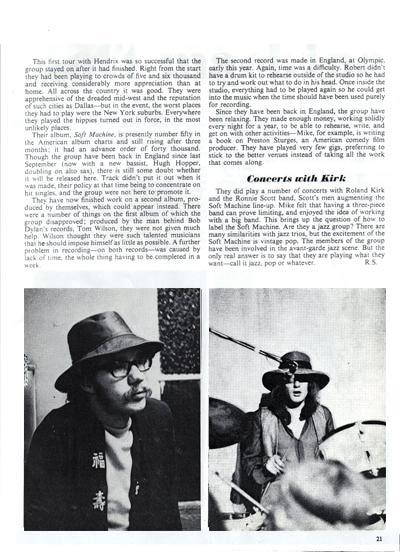 This first tour with Hendrix was so successful that the group stayed on after it had finished. Right from the start they had been playing to crowds of five and six thousand and receiving considerably more appreciation than at home. All across the country it was good. They were apprehensive of the dreaded mid-west and the reputation of such cities as Dallas — but in the event, the worst places they had to play were the New York suburbs. Everywhere they played the hippies turned out in force, in the most unlikely places.

Their album, Soft Machine, is presently number fifty in the American album charts and still rising after three months; it had an advance order of forty thousand. Though the group have been back in England since last September (now with a new bassist, Hugh Hopper, doubling on alto sax), there is still some doubt whether it will be released here. Track didn't put it out when it was made, their policy at that time being to concentrate on hit singles, and the group were not here to promote it.

They have now finished work on a second album, produced by themselves, which could appear instead. There were a number of things on the first album of which the group disapproved; produced by the man behind Bob Dylan's records, Tom Wilson, they were not given much help. Wilson thought they were such talented musicians that he should impose himself as little as possible. A further problem in recording — on both records — was caused by lack of time, the whole thing having to be completed in a week.

The second record was made in England, at Olympic, early this year. Again, time was a difficulty. Robert didn't have a drum kit to rehearse outside of the studio so he had to try and work out what to do in his head. Once inside the studio, everything had to be played again so he could get into the music when the time should have been used purely for recording.

Since they have been back in England, the group have been relaxing. They made enough money, working solidly every night for a year, to be able to rehearse, write, and get on with other activities —Mike, for example, is writing a book on Preston Sturges, an American comedy film producer. They have played very few gigs, preferring to stick to the better venues instead of taking all the work that comes along.


They did play a number of concerts with Roland Kirk and the Ronnie Scott band, Scott's men augmenting the Soft Machine line-up. Mike felt that having a three-piece band can prove limiting, and enjoyed the idea of working with a big band. This brings up the question of how to label the Soft Machine. Are they a jazz group? There are many similarities with jazz trios, but the excitement of the Soft Machine is vintage pop. The members of the group have been involved in the avant-garde jazz scene. But the only real answer is to say that they are playing what they want — call it jazz, pop or whatever.

R.S.