The born-again politico - The Guardian - September 26, 1991


THE BORN-AGAIN POLITICO


Jonathan Romney
The Guardian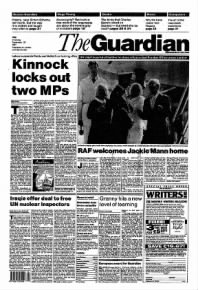 ROBERT WYATT has just made a new LP, six years after his last one. He would have taken a lot longer over it, if not for the sight of two nuns walking on a Spanish beach. His wife Alfie wrote a poem about it, he set the poem to music, and the song turned into a record, Dondestan.

Rather than being the fruit of extended artistic agonies, the new record Wyatt claims, was made to pay the gas bill. "Every time I've done a recording I'm extremely dubious whether there's anything left in the tank." But over the last 25 years, Wyatt has consistently disgorged more and more intriguing tankfuls. Once the drummer with the Soft Machine, Dadaist doyens of thé British psychedelic era, Wyatt left to found his own group Matching Mole, but in 1973 fell out of a window, breaking his back, and has been in a wheelchair since then.

Dondestan arose out of two off-season winters spent south of Barcelona, Alfie's "verbal photographs" providing five of the songs. Wyatt's own lyrics on the record are more explicitly political, like the title track which posits an imaginary state of the dispossessed. "There probably is such a place. But it's also Spanish for 'Where are they?' We lived in a part of Spain which the locals couldn't afford to use when the tourists weren't there. Dondestan seemed the only title, when you add my songs about colonialism and dispossession."

The latter subjects have preoccupied Wyatt increasingly over the years. He admits to being a born-again politico: "I spent most of the seventies trying to climb out of the mirror world of rock narcissism and have a look outside." What he saw led him to record, among other things, an anti-vivisection film soundtrack, covers of Chilean freedom songs, and a single recorded with the SWAPO Singers and ex-Specials leader Jerry Dammers as a gesture of support for Namibia. For 10 years, he was a card-carrying member of the Communist Party, but that period ended recently, a parting celebrated in the LP's acidic jibe CP Jeebies. "I thought if you were prepared to call yourself communist, it meant you weren't afraid to be called Communist. But the party leadership spent the whole time apologising for the name. They've now become the Jolly-Nice-People-Like-Us-Not-Like-Those-Foreign-Ones Party. Some of the older communists I know, who still have Paul Robeson records, were really hurt."

Wyatt's enduring interest in what he calls "hard politics", and his availability to causes, make him an increasingly anomalous figure in pop. After the failure of Red Wedge and a decade of post-Clash fatigue, the very notion of political pop is one that most commentators prefer to brush under the carpet. Wyatt is still committed to the idea of music as a soapbox, and feels an affinity with pop's inveterate orators, even if his own style is less vociferous than theirs.

"I totally enjoyed Red Wedge and the Style Council. My approach might be more circumspect but I don't wave the flag of 'subtle artist' at people. I would like to be unmistakeably right-on, but I don't have that confidence. I'm just grateful that there always is some little Speaker's corner somewhere." If that corner remains open in British pop, it's in no small part thanks to Wyatt's defiantly individual, if sporadic efforts.

- Dondestan is available on Rough Trade.