| | |
| --- | --- |
| Different every time: The Authorised Biography Of Robert Wyatt | |
Annoncée plus d'un an à l'avance, cette bibliographie de Robert Wyatt par Marcus O'Dair, journaliste et musicien - une moitié du très sophistiqué Grasscut - ne déçoit pas.

Très documentée et largement illustrée, les afficionados du présent site y trouveront en 460 pages "tout ce qu'ils ont toujours voulu savoir sur Robert Wyatt" et bien plus encore...

Ecrit par un amoureux passionné et exigeant de la musique du grand Bob, cette bible mérite bien son appellation de 2ème de couverture : "The definitive biography of Britain's greatest cult musician".

La sortie du livre fin 2014 s'est accompagnée d'une double compilation Ex machina et Benign Dictatorships, une sélection de collaborations très éclectiques qui rend bien compte de cette curiosité intellectuelle et humaine qui a guidé toute la carrière musicale de RW.

Quelques semaines plus tard, Robert Wyatt faisait savoir qu'il "prenait sa retraite". J'ignore si cette annonce était déjà envisagée au moment de la sortie du livre et des deux albums. Mais ces productions forment un fabuleux point d'orgue à une carrière hors du commun dont chaque épisode entre en résonnance avec les moments forts de notre vie.

Et nul doute que nous vibrerons encore de cette voix et des paysages sonores dont elle a su s'entourer.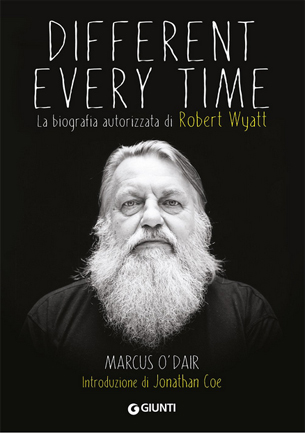 | | | |
| --- | --- | --- |
| | | Different every time est publié en français en juin 2016 aux Éditions du Castor astral. |
Different Every Time: The Authorised Biography Of Robert Wyatt
Marcus O'Dair
WIRE - November 2014 - Serpent's Tail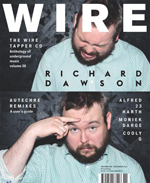 Robert Wyatt's phantom pains had less to do with the drunken fall that in 1973 turned him from "drummer biped" into sit down singer, and more to do with the vertebral severance of his firing from Soft Machine. Escaping a familiar "party entanglement" at Lady June's West London flat, Wyatt heard a lupine scream as he slipped off the drainpipe he was shinning, and only realised later that the voice was his own. There's a metaphor in that alone.

Just as phantom pains are medically well attested, so too is the habit of hyperrationalising a disability so that it seems a positive advantage. Wyatt has suggested that the fall (and his secular Christianity might allow us to capitalise it) has been the source of his redemption, though redemption of any sort without the presence of partner and collaborator Alfie - that is, Alfreda Benge - would surely have been vanishingly improbable. The accident turned Wyatt from shirtless rock god, impossibly beautiful in his younger incarnation, into the UK's equivalent of American poet John Berryman, the usually legless, chaotically bearded, impossibly depressive weaver of dream songs who took his own (fatal) jump the year before Wyatt's, in l972.

The songs had been the issue in Soft Machine, who wanted Wyatt to stay behind the kit and keep his mouth shut. The parting wasn't just a falling out with friends, but the thwarting of a distinct musical vision, that has now taken 40 years to work through what might have been done on the Soft's so-so Third, dribbly Fourth and the essentially redundant Fifth, Six and Seven if Wyatt's 'Pataphysical version of the group had been allowed to prevail. Famously, he called his next group Matching Mole (after machine molle, the French translation of Soft Machine) in hurt/homage/defiance, then broke it up before it got much further than a two steps back, one step forward version of the original group.

Close access to Wyatt and Alfie (who merits a biography of her own) has allowed Marcus O'Dair to explore the fall out more clearly than anyone before. When Wyatt came out of what had begun to look like a full time withdrawal from the world and music making with 1997's heavenly Shleep, he was able to say that "0ld wounds are healing/Faded scars are painless/Just an itch" and work alongside his former Soft Machine colleague Hugh Hopper again. But he was also moved to say on "Free Will And Testament" that, "Had I been free, I could have chosen not to be me". There is suicide, which was Berryman's path, and there is the honest will never to have existed, or to be Other, and that's a whole different kettle of rock bottom fish, a different kind of psychic ooze.

Perhaps the most poignant detail in the whole book is the offscreen image of Wyatt's father in a wheelchair, suffering from multiple sclerosis. It is as if bipedalism was never his birthright, even if a bright and dreamlike imagination was, through his mother Honor. O'Dair catches the mood and spirit of the various Wyatt homes beautifully and gives enough of the wider family -including the turncoat journalist Woodrow Wyatt - to suggest a complex creative and intellectual lineage. He also gives the most detailed account yet of Wyatt's political commitments, which for a long period during his own and the UK's years of lead seemed to outweigh his music. Reviewers rather too eagerly took the cue and for the longest time a Robert Wyatt song was analysed almost exclusively in reference to its lyrics (which were sometimes Alfie's work) when the real subversion and radicalism lay in the music, which came out of a distinctly British approach to jazz as a sonic philosophy rather than a style. When Wyatt mangled the Spanglish words of "Frontera" for his loyal friend Phil Manzanera's 1975 album Diamond Head, it was a signal surely that his approach to language was rarely literal. When Robert Christgau criticised Wyatt's lyrics for "minimalist obscurantism" or possibly "obscurantist minimalism", he had the germ of a point but lost it in sourness. Wyatt picked up the cue, saying pawkily that American minimalism is a con, because there's far too much of it, whereas he is the real minimalist, leaving ten year gaps between projects.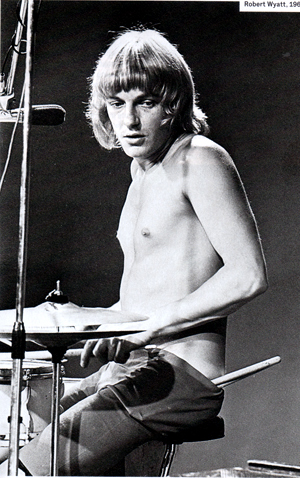 The trajectory from "Frontera" to its retread "Team Spirit" on 1975's relatively unloved Ruth Is Stranger Than Richard sums up much of Wyatt's musical career. The opening "Kick me, Hardy" and "I'm the best football you have got" say a lot about how easily wheeled about Wyatt is in the recent history of British music. I saw him once at a party, parked in a corner, hunched, with bright people, all of them ostensibly there to celebrate his achievement, shouting over his head. The next week, the papers were full of wordy/worthy examination of his apparently atavistic and cross-grained devotion to Soviet communism. In reality, Robert Wyatt is devoted only to the human spirit in all its frailty and to the 'Pataphysical clinamen, the swerve behind all nature and the "slight deviation in the orderly descent of textual atoms" (as noted by French writer Jacques Jouet) that renders the world and its texts alive and interesting.

It is remarkable that a man whose mobility has been limited for four decades, who does not tour or perform live, should have delivered so much of the musical world to us. Wyatt is the most important British composer and his most important composition was the 2001 Meltdown festival, the most completely satisfying musical week in Britain since records began, even if the principal curator chose only to perform briefly and side-stage. It was the happiest time he'd spent, he says, since some of those Communist-run festivals in Italy back in the day, when food and drink and music vied for attention with the Dialectic. He and Alfie didn't miss a gig, though.

If things had gone differently, Wyatt might still be behind the kit and "sweating like a boxer" on some Softs reunion tour. Whatever he himself feels about it, that would be just out-bloody-rageous.
Brian Morton
Different Every Time
Laurent Rigoulet
TELERAMA - 10/12/14 - ffff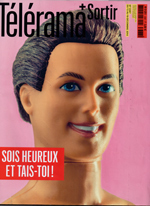 Robert Wyatt est le plus discret des génies. A l'approche de ses 70 ans, il se retire sans un bruit. Une simple phrase pour un journaliste anglais qu'il reçoit, à l'automne, dans sa maison perdue du Lincolnshire : «J'ai arrêté de faire de la musique.» Pour tempérer l'effet de cette sombre nouvelle, l'homme «à la voix la plus triste du monde» dresse l'inventaire à sa manière. Il fait tenir sur deux albums cinquante ans de carrière et plusieurs vies à l'avant-garde de l'internationale rock, où il a côtoyé aussi bien Jimi Hendrix et Syd Barrett que Björk et Elvis Costello. Le pari est absurde, les choix abrupts, les oublis nombreux, mais Robert Wyatt, patriarche aux humeurs changeantes, ne pouvait que trancher dans le vif pour résumer, sans souci de logique, un parcours prodigieux dont la boussole oscille entre Charles Mingus et Karl Marx, Alfred Jarry et Billie Holiday. La compilation n'est pas baptisée pour rien Different every time (« chaque fois différent »). Elle esquisse la cartographie d'une vie tout en bifurcations et donne de l'appétit pour replonger dans l'œuvre foisonnante de ce patriarche que les Anglais considèrent comme un «monument national» (lire encadré). En Grande-Bretagne, le disque s'accompagne d'une biographie au titre identique, qui brosse un portrait détaillé de ses multiples incarnations : le batteur de Soft Machine, noceur et soûlographe, improvisant torse nu dans le tourbillon festif du Swinging London ; le chanteur paraplégique, cloué à son fauteuil roulant après une chute accidentelle, du quatrième étage, lors d'une soirée de juin 1973 ; le crooner dépressif, le militant communiste endurci, l'érudit jazz, l'agitateur pop...

Pour lancer la visite, Robert Wyatt nous fait pénétrer dans son univers par une ouverture aussi baroque que monumentale. Moon in june est une composition de vingt minutes, une odyssée tantôt mélodieuse, tantôt bruitiste, qui condense les années folles de Soft Machine sur la ligne de front du rock expérimental des années 1960. Comme Pink Floyd, son «jumeau de l'underground», le groupe de Canterbury a tissé sa légende de concerts épiques - moto sur scène, happenings, bains de gelée, explosions de fumée... lors de soirées psychédéliques où tout était combiné pour évoquer les «rêves en Technicolor» et les voyages sous acide. La liberté était le seul cap et les improvisations musicales n'avaient guère d'autre limite que celle des ressources physiques. Enregistré au tournant des années 1970, Moon in june garde l'empreinte de ces digressions mais ne s'écarte jamais des chansons pop et de la musique black américaine dont Wyatt s'est nourri toute sa vie. Le canevas est souple, les mélodies rayonnent ou s'estompent dans le tourbillon instrumental, la voix aiguë du chanteur flotte dans un jour chagrin, se laisse emporter par l'exubérance du jeu de batterie sans rien perdre de son émotivité. «Pour Charles Mingus, dit Wyatt, la musique perd toute valeur, toute signification si elle se coupe de ses racines dans la chanson ou la danse.» «J'aime la pop à mort», clame-t-il aussi.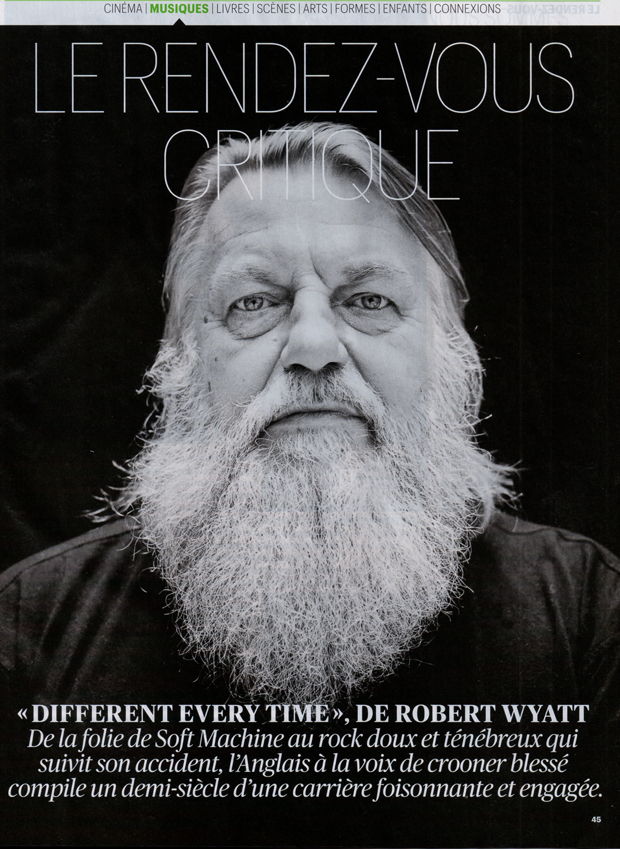 D'une exploration à l'autre, il en a fait son credo. Quitte à s'opposer à ses comparses de Soft Machine, qui juraient que par l'abstraction pur et dure. Ce Moon in june, saturé de vie, un acte de décès. Leur dernier morceau en commun. Wyatt l'a enregistré presque seul avant de se faire renvoyer du groupe qu'il avait fondé. Il en a gardé un chagrin immense (dont il a dit parfois, qu'il l'avait conduit à son accident) mais en a tiré une ferme philosophie musicale. Contre le jazz-rock sans âme que des musiciens rock, fascinés par John Coltrane, ont fait déferler sur les années 1970 (« la pire fusion possible»). Pour un rock doux, ténébreux, nourri par la fluidité des mélodies jazz.

Après son terrible accident, Robert Wyatt, émouvant crooner qui n'aura jamais chanté debout, dit qu'il n'avait d'autre choix que d'« inventer une autre manière de faire de la musique ». Il l'a fait, sans attendre, en 1974, sur son chef-d'œuvre, Rock Bottom, tissé des mélodies aqueuses qui lui tournaient en tête sur son lit d'hôpital. D'une époque à l'autre, le chanteur blessé a traversé des zones fortement dépressives, mais il a produit, sans relâche des chansons généreuses et teintées d'un optimisme combatif. Different every time en fournit quelques brillants aperçus. At last I'm free, reprise languissante du chic des années disco, est le joyau d'une période fertile - les années Thatcher - où il s'est nourri de la musique populaire pour enregistrer de poignants manifestes (sur la face B du 45 tours, il livrait une magnifique relecture du Strange Fruit rendu célèbre par Billie Holiday). Faite d'emprunts, de citations, de détournements, de collages, sa musique est devenue indissociable de la lutte politique. Avec la liberté de sa voix, capable de restituer chaque tonalité d'un solo de jazz, Robert Wyatt peut faire pleurer en chantant les hymnes de la gauche éternelle ou les compromissions du socialisme moderne, la mort de la classe ouvrière, l'avènement du libéralisme (The Age of self)...

Il veut donc se retirer du monde à présent. Il reviendra peut-être. Et ne s'effacera pas. En couverture du disque et de la biographie 2014, l'image qu'il imprime est celle d'un ermite, taillé dans le roc, au regard ferme et clair. La force indestructible d'un guide qui a su se faire écouter de tribus aussi antagonistes que les punks ou les hippies, et que les jeunes générations n'ont pas fini d'entendre.

Laurent Rigoulet


Ex machina, un recueil de ses enregistrements, et Benign Dictatorships, qui rassemble quelques interventions sur d'autres disques que les siens.

Different every time, the authorized biography of Robert Wyatt, de Marcus O'Dair, préface de Jonathan Coe, éd. Serpent's Tail.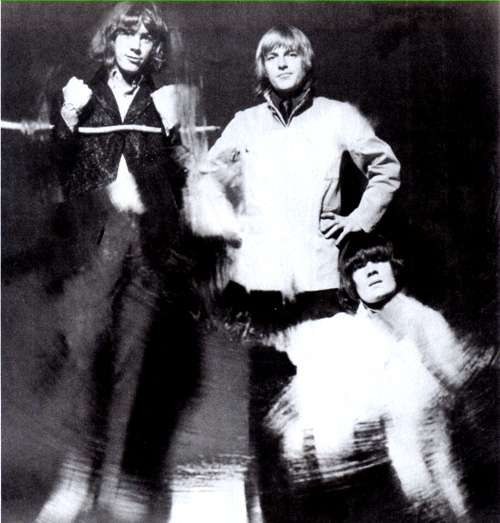 Robert Wyatt (au centre) vers 1968, avec ses comparses de Soft Machine

SUIVEZ LE GUIDE
Les albums solo de Robert Wyatt ont bénéficié de rééditions soignées (chez Domino). Par où commencer?
Rock Bottom, libre manifeste d'un artiste qui a largué les amarres, est l'album clé pour se laisser happer par les mélodies en clair-obscur et les escapades sonores de Wyatt.
Réalisé un an plus tard, en 1975, Ruth is stranger than Richard, plus sombre, achève d'imposer la signature d'un chanteur solitaire.
Nothing can stop us, petit chef-d'œuvre de la pop marxiste, rassemble en 1982 les chansons publiées sous forme de 45 tours pendant les années Thatcher. Avec le magnifique Shipbuilding, écrit par Elvis Costello.
En bonus, Jet Propelled Photographs est une belle curiosité de l'époque Soft Machine et du Robert Wyatt chanteur soûl et batteur énergique. Des bandes enregistrées à Londres en 1967 dans la formation d'origine, et une chanson inoubliable, Memories. - L.R.