| | |
| --- | --- |
| Le mystère Trickster | |
Cette affiche attire immédiatement l'attention avec cette mention à la dernière ligne qu'aucun biographe ou journaliste n'avait jusqu'à présent relevée : "Music composed by ROBERT WYATT and HUGH HOPPER" !

Nous sommes en 1974, Robert Wyatt travaille encore sur Rock Bottom qui sortira le 26 juillet. David Gale invite Robert Wyatt à composer la musique de la prochaine pièce du collectif LUMIERE & SON qui mettra en scène le Trickster, figure mythique ancestrale des populations amérindiennes.
David Gale, jeune dramaturge et ami d'Alfie, connait bien Robert Wyatt pour qui il a rédigé le texte délirant du verso de la pochette de Little Red Record. De son côté, Robert a vivement apprécié la précédente pièce de LUMIERE & SON Jack….The Flame! qu'il est allé voir quelques semaines plus tôt au Bush Theatre.
La troupe a été créée l'année précédente par David Gale et Hilary Westlake et elle a déjà trois pièces à son actif. La critique et le public sont sous le charme : "'Visually extraordinary, the show presents a collage of surreal images that have the frightening, funny, and inconsequential qualities of forgotten dreams. Lumiere & Son often succeed in finding something new and unique.' (John Ford on Jack…The Flames! Time Out)"

La toute première pièce fut une performance réalisée le 21 octobre 1973 à l'occasion du concert d'Henry Cow au Rainbow Theatre. Tip Top Condition, la seconde pièce, fut créée début 1974 avec une bande-son composée par Lindsay Cooper.

Trickster sera la quatrième pièce. toujours écrite par David Gale et montée par Hilary Westlake.

"Westlake and Gale found an ideal vehicle for their preoccupation with psychic disinhibition in the folklore of the Trickster figure, a study of which informed the riotous vulgarity of the eponymous play (1974) featuring the comic performance of the late Eiji Kusuhara as well as an array of characters portraying well known and, in many cultures, normally concealed, body parts".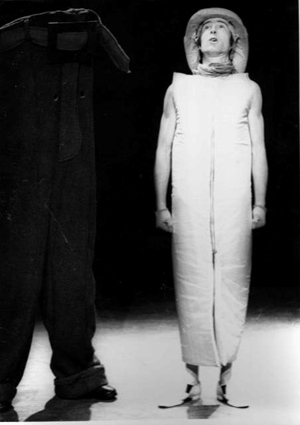 Dans le communiqué diffusé à la presse, la participation de Robert Wyatt est largement évoquée :

"Robert Wyatt writes music for Lumiere & Son's new show.
The Trickster is a figure from ancient North American Indian myth. tales of his exploits were regularly recounted by story-tellers to provide an antidote to the often stiflingly rigid structures of tribal society. Trickster is innocent yet diabolic. His mind is so unformed that his right hand will attack his left hand with a knife. He carries his penis in a box at his back and can change it into useful plants at will. He can assume animal form and converse with trees. While at one moment he is depicted as the protector of his family, the next he will kill off small children in order to satisfy his constant and voracious hunger. He is wild, amoral, bi-sexual and unconscious. Trickster is an old as the hills - he stands as the ancestor of the jester, the fool, the clown and Punch. Jung saw him as : 'an absolutely undifferenciated human consciousness, corresponding to a psyche that has hardly left the animal level... In picaresque tales, in carnivals and revels, in sacred and magical rites, in man's religious fears and exaltations, the phantom of The Trickster haunts the mythology of all ages... He is both sub-human ad super-human, a bestial and divine being whose chief and most alarming characteristic is in his unconsciousness.' Lumiere & Son have adapted the myth into a flexible performance piece in which the elements of farce, anarchy, absurd sexuality, surreal shape-shifting, clowning, idiocy, malice, benevolence and vulgarity are retained intact. The piece ranges from the burlesque to the ceremonial and clearly demonstrates the continuing relevance of this ambiguous figure to our understanding of our own experience in a society where taboos are still strong and demanding. Lumiere & Son are joined by Robert Wyatt in their new project, Long-time drummer, vocalist, lyricist and composer with the Soft Machine, are honourary member of the College of Pataphysicians, founder of his own band Matching Mole, and currently working on a new solo album for Virgin records, Robert Wyatt is composing a tape score to accompany performance of The Trickster. He became involved with the company after being impressed with their recent appearance at the Bush Theatre. "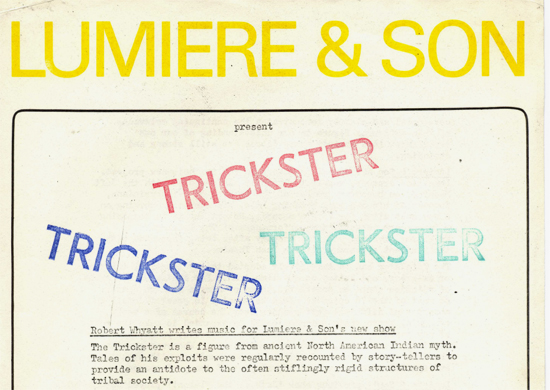 A ce stade, les questions affluent : que composa Robert Wyatt pour Trickster ? Des traces de ce travail ont-elles été conservées? Quelle fut la participation de Hugh Hopper ?

Malheureusement, l'affaire se corse... Hilary Westlake m'a confirmé la participation de Robert Wyatt au projet mais ne peut guère m'en dire plus:
"I contacted another one of the cast and she recalled Robert doing the music and coming to some rehearsals. In the second version, the programme of which I have, John Mitchell has the music credit but apparently he arranged Roberts.
However, none of us have any recollection about Hugh Hopper or indeed what the music was. "

Un peu plus tard, elle me précisera :
"If anyone had the Trickster tape, it would be me, and I don't have it. John Mitchell, who arranged Robert's music, died a few years ago so I can't ask him what he might have happened to the tape. In the 70s and 80s there wasn't much consciousness about archiving and as we didn't repeat shows, we wouldn't have guarded the tape for future use. That show wasn't videoed so we can't get any inkling of the track from that."

"I could imagine that Robert might not even recall doing the show. It would have been a small job for him probably in a sea of projects."


Le mystère Trickster reste donc presque entier... Peut-être Robert Wyatt pourra-t-il un jour nous éclairer sur cet épisode méconnu de sa carrière ?

A moins que ce ne soit le Trickster lui-même qui veille à ce que le plus grand flou demeure sur cet évènement afin de ne pas provoquer des Dieux trop susceptibles...