Invisible jukebox - The Wire N° 142 - December 1995

INVISIBLE JUKEBOX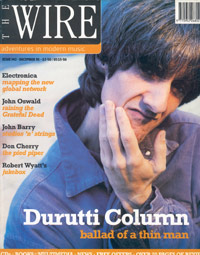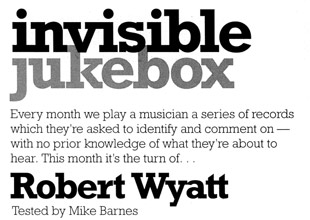 In 1973 Robert Wyatt fell out of a window at a party and suffered an injury which left him paralysed from the waist down. Although it effectively ended his spell as one of the UK's most inventive drummers, his musical career continued - he happened to be one of the UK's most inventive singers, songwriters and arrangers, too. Beginning as a drummer and singer in The Wilde Flowers in mid-60s Canterbury, Wyatt went on to a famous five year stint with Soft Machine. In 1972 he formed the more spontaneous, and equally acclaimed, Matching Mole. Post-accident, Wyatt found his true voice and recorded his best work, starting with Rock Bottom in 1974. The same year, his version of The Monkees' "I'm A Believer" made the charts - a feat repeated eight years later with the Elvis Costello song "Shipbuilding". In between his own releases, his collaborations have been many and various, from Brian Eno to Mike Mantler, Working Week to Ultramarine. Wyatt joined the Communist party in the mid-70s and his work became increasingly political throughout the 80s. After a five year hiatus, he re-emerged in 1991 with Dondestan, his best work for 15 years. An instrumental mini-album A Short Break followed. He is currently negotiating a new record deal. The interview took place in Wyatt's home in Louth, Lincolnshire.



CHARLES MINGUS
"Haitian Fight Song" from The Clown (Atlantic)


I never saw this band. I do think he's underestimated in importance as a bass player: it's good that you've got one here where he starts on his own. I think he's probably my favourite ever bass player. Apparently he used more fingers than other bass players. He used three fingers of his right hand, which is why you get rather uneven walking lines, using the middle finger and the first finger. What I like about his solos is that they're the most like speech patterns of any bass player, so that makes him the most remarkable.

This has got a strong melody and even though it's just a quintet, it's like a whole group feeling - not just soloists and a rhythm section, a real group [Looks at CD] It's from The Clown! My God, that is going back.

In your biography you mention a lot of bass players as major musical influences.
It's what drummers work with - we're both in the engine room so they're the ones you get to know and that can be the crucial thing. Also when I'm making a record, it's the one thing that I can't do myself, so I have to get in a bass player.

One of the things that influenced me about Mingus is the compositional thing. There's a tendency in jazz, and it can be allright, for each composition to be a vehicle for the soloists to do their stuff - that's the only reason that tune is chosen. Whereas with Mingus, each piece has got its own character and it's very particular. And even with a small group, an informal set-up like that, they're playing that piece, not some other piece - that's what I like. Because he came from the West Coast and not the East Coast, he got involved in a lot of his early workshops with a mixture of all sorts of strange people that he might not mix with in some other context. But the first groups he had were extremely academic sort of intellectual exercises, the Mingus Workshops. He gradually got bluesier, but his bluesiness had a terrific intellectual authority because he'd done all this technical homework beforehand. So he was in total mastery of time signatures and harmonic complexities and so on.


THE RAINCOATS
"Fairytale In The Supermarket" from The Raincoats (Rough Trade)


It's English anyway. Could it be The Slits? Is it Palm Olive? I really think she's good - let me get in a plug for Palm Olive as a fellow drummer. I once said [to The Slits], 'If you ever want me to drum on your records I'd be happy to come', but they never asked me. I was very hurt by that, but never mind, I got to play with The Raincoats instead. It's not The Slits? Blimey, I'm pleased I recognised the drumming. It's Palm Olive and somebody Yeah Go! Go!

It's from The Raincoats' first album, with Palm Olive on drums.
I did the last gig in my life [in 81] with The Raincoats. We did "Born Again Cretin", which they did very well. I really enjoyed it... I didn't know [this] was The Raincoats because I didn't hear their first record. To be fair, that definitely wasn't Ari Up singing. What threw me was distinctive drumming style that I associate with The Slits - that's my excuse. Very nice. I liked that.

How did you come to play with The Raincoats?
I think they were an Rough Trade and we met around Rough Trade. It was a fairly loose set-up where people were listening to each other's stuff and clocking what each other were doing.

You played with other post-punk groups and musicians - Scritti Politti, and Epic Soundtracks from Swell Maps. Few other musicians from your generation got so directly involved in that area.
Well it surprised me, to be honest. If I was asked and I could do it, on the whole I would. I liked the attitude round then. There were a lot of people I got on with better from that eruption than from that early period in the 70s, that I might have been expected to identify with. I liked the rough and ready approach. It's like somebody said about me: I'm like Jimmy Sommerville an valium, and I haven't got his get-up-and go, I've got a lot of get-down-and-stay. But apart from that I really liked all the people I heard from that period.

I didn't think rock'n'roll was so precious that it had to be played in tune. It never struck me as the essential ingredient in the first place. In fact by having that strange detuning that they all seemed to do - that slightly untuned desafinato that they had - it gave a bit of harmonic interest to a music that normally doesn't have any at all. The music I'd been involved in listening to before, the jazz, had gone into a tailspin of rejection of organisation anyway. So quite a lot of pop groups at that time were a sort of electrified version of a free jazz revival - which to those of us who were accustomed to these things was quite nostalgic really.


VARIOUS ARTISTS
"Smash The Social Contract" from Cornelius Cardew Memorial Concert (Impetus)


Oh it's Communist Party, brackets, Marxist-Leninist, close brackets. Could it be Laurie Baker, the composer? I think I recognise that pianist. Oh, that's very interesting that, because Cornelius Cardew used to write a lot of pieces, but I don't think that is Cornelius Cardew. Although he did take on the attempt to write popular songs, that would have been in the era when I don't think he specifically dealt with things like the Social Contract. The things I remember by him at the time were more Internationalist, but it may be.

It is composed by Cardew, a performance from his memorial concert in 82.
Is it really? Oh, that's interesting. It could have been Laurie Baker on drums [Looks at sleeve] Laurie Baker, there you are.

One thing to say about Cornelius Cardew, before anybody says 'what a load of crap' or anything like that, is he was the most stunningly knowledgeable musician. One of the few in this country that had that really encyclopaedic knowledge of music, that we associate with non-English figures like Pierre Boulez and people like that. And had he lived he would have been recognised as one of the giants of music, just because of the breadth and depth of his knowledge. What people object to, of course, is the way that he channelled that vast knowledge into certain disciplines, but I think that's very heroic myself, and it was very interesting to hear it.

Cardew was obviously keen to get his message across to the greatest number of people by putting it in an accessible 'popular song' form. But do you think the rather knockabout knees-up style of this particular song actually works?
Well the thing is, they set themselves more problems than they tried to solve, because by seeing what you could do without really using Transatlantic popular culture at all, your departure point into the new age comes from somewhere around Gilbert & Sullivan in the end. So you end up becoming Marxist-Leninist-Gilbert & Sullivan-ist! Nobody in England should object to that - we're all very proud of Gilbert & Sullivan. I would suspect anyone's political motives of disapproving of Cornelius Cardew on those grounds. It's the great thing, innit, Britpop, this year? You can't get more Britpop than Gilbert & Sullivan. So he was right in there, Cornelius, ahead of the pack as usual.

I'm not saying he got everything right, but I like his attitude with all this knowledge, trying to focus it instead of bathing in it in a sort of narcissistic glory of talent. He never tried to do that and I think it's very unusual.


HATFIELD AND THE NORTH
"Fitter Stocke Has A Bath" from The Rotters Club (Virgin)


Oh, that's Richard [Sinclair]. What a lovely voice, it's so true. On Rock Bottom he and Hugh Hopper really held it together [on bass]. In the mid-60s - he actually came from a musical background, his dad was a musician - although he was younger than us, he always used to sing in tune which I thought was pretty avant garde at the time, and actually I learnt to do the same. It took me a few years. A musician that he liked even when he was a teenager was Nat King Cole, who nobody listened to in the 60s. Nat King Cole people don't realise why singers like him so much. It's because he's so in tune, so accurate. That's half the battle really - and Richard always was.

Hatfield And The North were one of the most fêted groups from that whole Canterbury Scene of the 60s and 70s. Was there any sense of a 'scene' at the time, or has it just become labelled thus with hindsight?
The first time I heard of the Canterbury Scene was in an article. It was invented by that bloke who does family trees [Pete Frame] and in order to do family
trees, you have to have families. If I hadn't been told I was in a thing called the Canterbury Scene it wouldn't have occurred to me. It surprised me that such a thing came to pass and it was interesting how these history books eventually get written. It makes you wonder about them [Laughs]

I had a very, very unhappy and unsuccessful time at school in Canterbury, during which time I actually lived nearer Dover. I think in the long run, despite some very nice and to me now seemingly essential associations like Hugh Hopper, I was unhappy in Canterbury. I know Dave Sinclair [Ex-Caravan and Matching Mole] is very affectionate about it. I never had that kind of ruralist affection. I was taken to the country at about the age of ten, simply because my Dad had a terminal illness and retired early, somewhere where he could take it easy for a few years. As far as I was concerned, my life was shut up in my room doing little paintings and listening to records - so what I really remember is the records I listened to and the paintings I tried to do. Highlights were saving up enough money to go to London to concerts, or buy an Ornette Coleman record.

I wasn't primarily interested in music for a start, and secondly, I certainly couldn't play. People have put out demos and tapes from that period from the 60s which I'm on, and I just find them so ridiculous I can't believe anybody wants to listen to them.


KING CRIMSON
"Cat Food" from In The Wake Of Poseidon (Island)


I'm trying to work out where that bassline comes from. Oh, what is that? People do that, use a classic bassline and it throws you. You spend the whole time trying to remember what it is. Oh, John Lennon. It's from a Beatles... that one they did on the roof. It's very interesting indeed. They can all really play [Wyatt later identifies the bassline as coming from The Beatles' "Come Together".]

It's King Crimson from 1970 with Keith Tippett on piano.
I was going to say, the pianist was particularly good. [Laughs] Michael Giles on drums? He's a terrific drummer, I should have guessed it from that. To be honest a lot of bands came up around 68, and in 68 we [Soft Machine] were in America. What I heard of the other bands at that time were Big Brother & The Holding Company, Sly & The Family Stone and The Buddy Miles Express, and Larry Coryell playing in the smaller clubs. American groups, basically, and of course we were with Hendrix. I didn't really know much at all about English bands who would have been considered our contemporaries. I don't remember ever actually going to a rock concert that I didn't have to play at.

One of the reasons that we played this track is that it's an example of the meeting ground of Progressive rock with experimental jazz of the era. Both King Crimson and Soft Machine used Keith Tippett's horn section [Marc Charig and Nick Evans]. King Crimson also collaborated with South African exiles like bass player Harry Miller, while you collaborated with brass players Mongezi Feza and Gary Windo.
The connection is very simple - Keith Tippett's personality. A West Country bloke with a great big heart and completely unlike the Old Boy Network jazz mafia that was the London scene at the time. He had all barriers down, listened to everybody, open-minded, never put anybody down, and one of his things was to get all these different musicians from different genres together - particularly the South African exiles. He would get together these bands and get us into them and then we'd meet each other. So really you could put a lot of that down to one man.

I think Mongs [Feza] and the South Africans we knew anyway, because we used to go down to Ronnie's old place and see The Blue Notes when they came to London. Although I didn't know them personally then, it would certainly have helped getting acquainted with Keith Tippett and Gary Windo and all those people. Alfie [Wyatt's wife] knew Johnny Dyani and Chris McGregor, and when we got together in 70- 71, I also got to know her friends as well, so that would be another connection. It was Alfie, Evan Parker pointed out, who introduced him to John Stevens, for example Chris McGregor was another one with a big heart.


NINA SIMONE
"I Put A Spell On You" from I Put A Spell On You (Mercury)


[Immediately] Ah yes, this is nice to hear [Sings along]. There's a fantastic saxophone solo on this but I don't know who it is. It's so great [Sings along to solo] Yeah! Then she picks it up and he keeps on going, he keeps pushing it. Now he's finished. Cor, that's the stuff. The saxophone solo is like some of the players who played with James Brown: Maceo Parker.

Now, there's a thing that pissed me off a few months ago. Everybody's favourite parliamentary candidate, Screaming Lord Sutch, was on [the radio] and boasting, quite rightly, that he's the one who eventually got rid of David Owen by beating him in an election - which is a great contribution to British politics. But then he was on about how he did everything before everybody, long hair and all that, and then he talked about all his coffin stuff and he was way ahead there; but he got all that coffin stuff and that whole act from the bloke who wrote this song, Screaming Jay Hawkins. For him [Hawkins] the "spell on you" was the big thing. He was into all that necromancy and I don't know what else.

Didn't you used to sing this with The Wilde Flowers in the mid-60s?
I think I used to sing it but I have a hard time remembering more than about 20 years ago to be honest. But certainly Nina Simone was very important. In fact most of the singers that I was influenced by were women, funnily enough. I seem to have more affinity with women's voices than with men's. That's because my voice never broke really.

I think she's a great singer, not just a good one I'd put her up with Ray Charles. The thing is, she doesn't quite belong anywhere. Really she belongs in the continental tradition of chanson singers, Jacques Brel and all that sort of thing, Edith Piaf - that dramatic presentation of songs. It partly came out of a folk tradition of music hall but not the jokey side of it. Oscar Brown Junior was that as well. It's not pop and it's not jazz, it's not any of the categories that now exist. It's more intimate, more nightclubby. Amazing presence. When she's in Ronnie [Scott]'s she makes the place look really small. It's like having a real queen in a room, the real nature's aristocracy. By the time I saw her, she was no longer hitting the notes. She just sort of intimated them, sketched them in the air. And it was all you needed if you knew the songs.


PUBLIC ENEMY
"Party For Your Right To Fight" from It Takes A Nation Of Millions To Hold Us Back (Def Jam)


Sounds like they're sampling Sly Stone NWA or something like that?

It's someone equally well known.
Not by me, evidently. It's not Public Enemy? I'm trying to work out what they're sampling. Oh well, I know this one. I think that's one of the great lines "It takes a nation of millions to hold us back". It completely inverts the whole notion of dissidence. It's very close on from The Last Poets, the first people who did this kind of thing, without a rhythm section, just a cappella.

What I like about [rap's] kind of talking - in posh music it's called Sprechgesange - is that for some reason it liberated words. There's been a problem, I think, in black pop music since Motown. Even in some of the stuff I really love, the lyrics are a bit like rhyming soap operas. What's nice about all this black Sprechgesange is that it actually liberated the language that you could use on a pop record. It was a shame because in all this time, the black Americans were reinventing the English language every five years and made a massive contribution throughout the century, probably even before, to revitalising the language, then you get the Motown pop songs that sound great but they all just go "Ooh Baby". It was a waste of all that fantastic vocabulary that's been cooking in the streets - so it was very nice that it broke through [with rap].

Although Public Enemy get their message over without any compromise, there's some witty interplay going on between Chuck D and Flavor Flav.
I used to listen a lot to Peter Tong's rap sessions on Radio 1 and there is some very funny, very witty stuff going on. And as for the stuff that people think is terminally defensive in attitude, I don't think that anyone who hasn't been to America and been around on the streets... I don't feel you can talk about it unless you've been there. It's a long time since I've been, 25 years, but I found white American racism made me feel ill and I wasn't even particularly interested in the subject at the time. But if I lived there, I think I wouldn't really be answerable for what it would do to my brain - and that's just me. So what it must be for someone who's in the firing line, I can't imagine.


SLY & THE FAMILY STONE
"Don't Call Me Nigger, Whitey" from Stand! (CBS)


[Immediately] Oh, that is Sly Stone [Drums on table] Yeah, there's one thing about Sly Stone that I really like. First of all it's like Mingus, there are lots of dimensions in it - a foreground, a middle ground and a background, and there's something happening in all of them. It's very beautifully spaced. Also that Mingus thing of each piece is a whole world of its own. [During wah-wah harmonica break] Another thing is, I was very influenced by him in this business of the wordless'vocal guitar solos' [Wyatt's trademark scat style].

Funnily enough, I was listening to this track this morning and it suddenly became apparent that it's like your own vocal style.
That's it. Almost like harmonica solos with your mouth right up to the mic [cups hand over mouth to give wah-wah effect] and you take a breath. Wonderful. And I thought, 'Yeah, I can play solos now!'

I went to see Sly Stone when I was in the States, but the record that most knocked us out when we [Soft Machine] were in the States was Stand!. That was as good as rock music got at the time - absolutely amazing. And the singers he gets in - that woman's a fantastic singer. He got ever such good players.

I read somewhere that you're a big fan of [Sly's bassist] Larry Graham.
Yeah, absolutely. One of the great bass players of all time and a great singer, deep voice, when he had his own band after he left Sly Stone. Very weird, strange person - they all were, but fantastic musicians. There's so much going on, you can't quite tell... Nowadays you can get effects with vocoders and stuff, you can sing through synthesizers and get instrumental effects and so on, but this is before them and better than all that really. It could be a vocoder thing [Sly] had been a disc jockey and knew a lot about studio technology. It's very good, led onto Bootsy and all that sort of stuff.

On some of the singles - specifically "Dance To The Music" - the bass is massively loud.
They had very eccentric mixes. They'd make aesthetic decisions on each track; where to put things, who to have doing what, things coming in and out of each tune. They're great art, Sly Stone's records. And having been a jazz fan, it's nice hearing rhythm sections as good as the first one you played. If you're brought up on rhythm sections like Mingus and Dannie Richmond then rock can seem a bit pedestrian by comparison. A rhythm section like that has got the dimensions of the ins and outs that make it more interesting, more organic.


PINK FLOYD
"Apples And Oranges" from Masters Of Rock (EMI)


Is it Barrett? Is it Jerry Shirley on drums?

It's Pink Floyd, one of the last things Barrett did with them.
I thought it was the second [Barrett] solo LP. That bassline's just a major scale going downwards. It is one of the great tunes, the major scale! [At line "thought you might like to know"] See, that's another Beatles influence, it's exactly Sergeant Pepper - or it's just as likely to be other way round. Paul McCartney used to listen to them [Pink Floyd].
That's lovely, it's really good. As you can gather, sometimes with English musicians, I know the people without necessarily knowing the music. I didn't collect records or go to the concerts. I was never a consumer. I really like them and there again liked them individually as people. I'm biased because they were very kind to us and to me. In the early days, they got us out of some horrendous tight spots when our equipment blew up, and they would lend us some - and groups don't do things like that. And then to me, they were very generous when I had my accident [Pink Floyd organised and headlined a benefit concert for Wyatt in the same year].

Musically, it's very refreshing to hear that. I'm ashamed to say I didn't know it, but I'm ashamed to say I didn't know
The Raincoats, but there you are. But I don't actually have rock records to listen to particularly. I see rock music as a boy-next-door activity. Rock doesn't have any romantic associations for me. It's what people like us used to do [laughs], the kind of things we got up to. That's all I feel about it, but having said that, I thought it was very inventive. I enjoyed it very much.

The Canterbury Scene we mentioned before has acquired a sort of mythic status over time, but not as much as the 67 UFO Club scene. Was it really as exciting as it's been made out to be?
Well, you have to forgive people involved if they're subjective. The subjective facts are I couldn't play in the 60s. It took me a long time. So I associate the entire decade - if there is such a thing as a decade - with excruciating embarrassment on my own part. And it's bound to colour what you think about a place or a time.
Objectively, I'd say it was good, yeah. It was good in the sense that the groups weren't the only thing, just part of what was going on.

It was almost like having a big indoor market, really. We [Soft Machine] used to go down there and play, and sometimes they'd have Monteverdi playing, and the atmosphere would already be perfect. All you'd need was Monteverdi playing and people wandering about, or lying on the floor and things like that, and Mark Boyle's and various other people's film projections all over the walls, and already that was it, the atmosphere. And then there would be the groups. It didn't rely on the groups, it was a place to be anyway. As a stage, the audience were all in the play. And except for a few stars in the old style like Arthur Brown, who was wonderful, most people were fairly anonymous. They would just be there as part of making the scene.

I think at that time, I was still too much of a jazz and blues fan to quite be able to tune into what they [Pink Floyd] were doing. The bands I knew in London before them were Zoot Money and Georgie Fame. I was more used to the Ornette Colemans and the Sun Ras, and compared with what was going on [in jazz] by the mid-60s, even the most non-poppy pop groups seemed fairly tame to me, and fairly commercial.
That's not a criticism, it's just a fact.


TONY WILLIAMS WITH MILES DAVIS
"Agitation" from ESP (Columbia)


[During Williams's long drum solo introduction] Sounds like Elvin Jones. It's not? Good Lord! He was very influenced by Elvin Jones - School of Elvin Jones. [Trumpet comes in] Well. Oh, in that case it's Jack DeJohnette.

It's not actually.
Hang on. OK. It's Tony Williams. Stupid, I am! Oh God, shoot that man. What a funny mistake to make. But that's a really interesting mistake, because I'd never thought of Tony Williams as being anything like Elvin Jones. But that early section and the business of stumbling over where you expect the bar-line to be, is such an Elvin Jones-y thing. And it's a much deeper sound than I associate with Tony Williams: he usually has a much lighter, crisper sound.
It was a very important time for Miles Davis. He never really recovered from the loss of Coltrane and he nearly went under then, I get the impression. But it was finding Tony Williams and doing a whole new thing that put him back on track. I don't know this one, I have to say. This is terrific, I really like this.

It's from ESP from 1965.
I should have this, let alone know it. Miles Davis started recording when I was born and he's been there all my life. And if someone asked me what was my very favourite voice sound ever, I'd have to say Miles Davis. There's a jazz writer, lives in Paris, called Mike Zwerin, who I've been in touch with again recently. He reminded me that one of [Miles's] bon mots - he lives in France so he can say things like that - was 'play half'. And that's exactly right. It's got a Zen appeal to it. The first time you hear it you think, 'Oh, that's easy, I've only got to play half', and then you think, 'Which half?' [Laughs] Miles Davis is one of the great jazz philosophers. It pisses me off when people list great philosophers and only list great philosophical writers, because to me some of the great philosophers weren't writers, they were people who did other things. Thelonious Monk or Miles Davis.

BRIAN ENO
"My Squelchy Life" from Nerve Net (Opal/Warner Bros)


I was going to play you another piece [ie Eno's "My Squelchy Life"] but it seems I've recorded over the tape by mistake.
You'll have to hum it! [After about 20 seconds of me humming] Ah, hang on, that could be Johnny Rotten. Don't tell me, because I know who that is. That's stupid - I just remember him saying something about sex once that that reminds me of. Of course it's Brian. I think Brian would be very amused, first of all that you sang "My Squelchy Life" and I said 'Johnny Rotten'. And secondly, I would think this is only acceptable if you point out that we've broken new ground here, in that you've not actually played the record and I commented on it. I think it's appropriate, Brian would really appreciate that.

I have no objective opinion of Brian at all. I just consider him a great friend and an utterly good bloke. What else can I say? Brian and I used to spend a lot of time together in the 70s just talking and hanging about. Which, despite this thing about various scenes I may have been on, I don't remember doing with musicians on the whole. We used to have such fun. That's why it's so appropriate you didn't play the record, because we used to have fun imagining things that there could be. One of the things was in the 70s there wasn't the word World Music. We thought wouldn't it be great to get all these records that we were listening to from all around the world, totally nothing to do with pop or rock 'n' roll or jazz or American music, anything like that, anything to do with Europe at all, and you could find tracks that would appeal to people and just package it like pop music. It's difficult to explain now that kind of idea has become commonplace, in fact hackneyed, how exciting it was at that time to draw up these sort of thoughts. He was a very enjoyable person to think with. I find that thinking out loud with Brian is incredibly good exercise for the brain.

You performed on Music For Airports in the late 70s, which is now regarded as a landmark in Ambient music. The idea that it was equally valid to listen to or ignore the music seemed very radical at the time.
That's perhaps why we got on well, because I do like that thing that he does and we both do, which is, 'What if you turn the situation upside down, whatever the assumption or premise might be?' You're banging your head on the wall to try and do something to grab people's attention - what if you do the opposite? [Laughs] Ideas circulate and I'm very loath to attribute ideas solely to one person or anything. This question of authorship wouldn't really be a battleground [for Eno]. Although he is a fountain of ideas, he wouldn't promote himself necessarily as such, because he's interested in the circulation of them, and they go through various processes.

I remember a thing that I'd mentioned that I'd came across from Miles Davis. He [Miles] was talking about how to arrange things in a piece of music. And Miles Davis basically wouldn't tell anybody what to do - his arrangement was the choice of musicians you had in the first place. And Brian thought that was terrific and went on to do some things like that, where you wouldn't tell anybody what to do - the arrangement was choosing the musicians. And so that idea you can't attribute either to him, or to me, I think you'd have to attribute it to Miles Davis, but the point is, the idea was very illuminating.

Eno always used to describe himself as a 'non-musician'.
I don't know what it means in rock 'n' roll, frankly. [Laughs] As opposed to who? Dave Clarke? What are we talking about here? But that's good. It's the great saving thing about pop music. There's a lot of pop music you only have to be able to hear in your head to be able to do it. But that only makes it like conversation. There's nothing wrong with that - doesn't mean it's crap.