Robert Wyatt Innervisions - Straight No Chaser - Winter 1997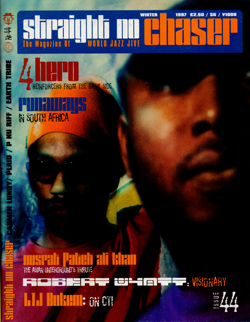 STORY

: paul bradshaw


PORTRAIT

: peter williams



It's midday

as I negociate a route past the British Museum and the combined sound of tenor and trombone ebbs and flows in my headphones. Momentarily it lifts me off to another world where a sage-like musician sits with his lover beneath a towering sky and gazes towards a distant horizon. Their shelter is a wooden dacca on the edge of a windswept estuary and that day, September 9th, has provided them, albeit fleetingly, with a host of visitors whose presence signifies the end of a summer. Surrounded by hundreds of swifts preparing themselves for a flight to another hemisphere the woman wishes for wings.

The same couple are still enjoying the vestiges of summer as I join them outside a cafe in Lambs Conduit St in Bloomsbury. Robert Wyatt sports a beard that is way beyond goatee. He and his combat jacket-clad partner Alfreda Benge aka Alfie are in transit between their modest home in Louth, Lincolnshire and a spell in Italy. Both are regulars at this spot. For Robert, who has been confined to a wheelchair since a fall from a fourth floor window in 1973, it's basically a question of access but it's been the site of many an interview to promote the new album 'Shleep' - his first for six years. The album title 'Shleep' is a nod of respect to London's Yiddish tradition, his own Russian Jewish ancestry and the uniqueness of his old friend the late Ronnie Scott. The club was Robert Wyatt's home from home and he misses him a lot. Out of nowhere, comedian Alexei Sayle suddenly appears and greets them both enthusiastically. They had met during the heyday of the resistance against Thatcherite conservatism at a Communist Party benefit in Lincolnshire. A lively banter ensues that reminds me of a quote from Wyatt where he declares, "If I were Blackpool rock I'd have Marxist-Leninist right through the middle."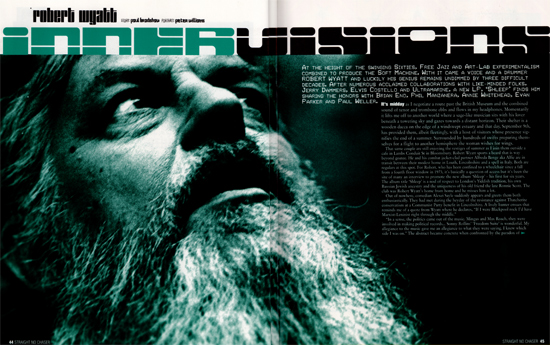 "In a sense, the politics came out of the music. Mingus and Max Roach, they were involved in making political records... Sonny Rollins' 'Freedom Suite' is wonderful. My allegiance to the music gave me an allegiance to what they were saying. I knew which side I was on. "The abstract became concrete when confronted by the paradox of apartheid. "I got to know the South African musicians when they came to London. It was so absurd, it was an outrage. For me it wasn't just a problem for South Africa, as long as apartheid existed and the South African government was dealt with as a serious government and not as a gangster/terrorist tyranny, we were all dirtied by it. That's what got me into politics, defence of my culture!"

A commitment to ending all exploitation led him to join the Communist Party. That same card-carrying commie caused a rumpus on Top Of The Pops with a rendition of the Monkees' I'm A Believer'. He berated the jingoism of the Falklands War with a classic interpretation of Elvis Costello's 'Shipbuilding' and anticipated the new dawn in South Africa by joining with a choir from SWAPO to add his own momentum to the 'Winds Of Change".

It has not been easy for Robert Wyatt. Depression and self doubt has taken it's toll but the man sat across from me seems happy. He's clearly enjoying talking about jazz and the positive critical response to 'Shleep' has given him a justifiable lift. A friend described 'Schleep' as "Not a jazz album but an album that could only have been made by a jazz man" and while overall the sound is totally unique, probably owing as much to the big skies and rhythms of nature as to Miles Davis, there are faint echoes which evoke the ghost of Mingus, ensemble parts that uplift like Carla Bley and spacey rhythmic shuffles that tip a nod to Max Roach.

"People ask what I listen to and often wrongly assume I'm listening to music that they associate me with. When I say I listen to a lot of black music they are very surprised... 'I can't really hear it in what you do'. Don Cherry, Charlie Haden, Billy Higgins where do we go from here? The whole way of doing things, the excitement of making music comes out of that... maybe not the whole... but take 'September the Ninth' - the idea of having the tenor together with the trombone comes from late-Fifties Mingus with Jimmy Knepper and Shafi Hadi. Before I was a musician the film score to John Cassavettes" Shadows really influenced me. Classic Mingus. I can play reverse karaoke with Mingus at home so I know those textures can intertwine in that way. The other Mingus thing is the music is obviously structured but there's a looseness where everyone is phrasing together. He brought that to group arrangements and that's gone straight into 'September The Ninth'.

Wyatt's fragile falsetto voice weaves its own spell. It's quirky, often drenched in sadness and distinctively English. He doesn't warm to the idea of it being quintessential and of its "Englishness" says: "That's just what's left because in the end, as a musician, you can't really copy anybody. So you're left with what you are, it's the only thing that's going to work."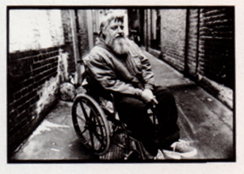 Connecting poetry and music has long featured in Robert Wyatt's ventures. Today it's Alfie's poetry and visuals that provide the inspiration. Brian Eno who arranged the opening track of 'Heaps Of Sheeps' and plays on 'Madrid' was reminded of the Fifties jazz and poetry thing. Robert describes that as a kind of third stream, a failed avenue that was explored but remains interesting. Of someone like Mingus who talked all the way through his performances the singer says it can be done because the spoken word is simply a kind of atonal note but it's set off in a harmonic context.

Inspiration is drawn from other literary sources including Lewis Carroll, Edward Lear, Belloc and Conan Doyle's pro-Fenian father who, according to Robert, was "quite mad but quite wonderful".

"My favourite book is the Oxford dictionary, but I also like specialist dictionaries... Alfie just picked up a dictionary on Philosophy. I read a lot of books by scientists who write in plain English... Stephen Jones and Richard Dawkins. I still have a thing for children's books. I love books with pictures... my current picture book is on modern astronomy with all the infra-red photography, photos of the cosmos. That feeds back a little into what I do"

"The follow up to 'Shleep' could be a follow up to Charlie Parker's 'Ornithology', could be called 'Etymology' which goes really fast," he says laughing, "we could re-invent be-bop out of my new science books."

Having abandoned the city (which he still loves) and opted for the less socially interactive environment of the countryside I was curious to see how Robert Wyatt, as a drummer who is completely at home with programming, felt about the current tide of junglistic drum 'n' bass. Alfie had seen the live TV performance of Reprazent and longed for a few more chords but thought it was fantastic... "so exciting".

"Drum and bass... I'm right in there... Ed Blackwell and Charlie Haden..." says Robert and laughing out loud declares it's futile asking an old man such a thing. "My drums, even when they're jazz influenced, don't have that motorised thing. They move in the opposite direction. It's related to the rhythm section in that I use drums to lift the tune off the ground a bit and get it moving, they're fairly gaseous... smokey... not really solid chunks of rhythm. I've almost taken the bass drum out of my stuff, abandoned that idea of filling up a track with a massive drum sound. I tend more and more to leave it out and fill it up with air."

Referring to drummer Kenny Clark who would float across the cymbals using the kit as accents he declares he enjoys more and more the implied and ambiguous in rhythm. "My tunes still rely on rhythmic tension but it's like Mingus said, 'You get too far from the song and dance and you get lost." When I went to see Coltrane and Eric Dolphy play, they would take their solos but for me the main thing that was going on, that was transcendental was the endless churning of these vamps, these slightly shifting repeated riffs by McCoy Tyner and Elvin Jones. It was astonishing. It seemed so primitive yet it was so advanced in the effect it had on your mind. That's what we're talking about now aren't we (with drum 'n' bass)? It is an extension of that."

Robert Wyatt surrounds himself with like-minded people. He compensates for musicians who he loved and misses like the late South African trumpet player Mongezi Fezi and Don Cherry by taking up his own trumpet to create a sound that soars alongside his own voice. His politics are implicit in his associations. Paul Weller, a committed leftist happened to be recording in the same studio and was left a note saying, "What about it then?" by Wyatt. The result is on the CD and it's a striking and innovative take on Bob Dylan's 'Subterranean Homesick Blues'.

"Off the record I've been asked, 'Where's the politics ?'. I mean... Cliff Richard doesn't sing hymns all day 'cause he's a Christian. It's so intrinsic to what I am. Look at who I associate with and play with... Annie Whitehead and Evan Parker, look at their histories... Annie working with Aswad, Jerry Dammers, Evan with Louis Moholo. Whether the politics is not apparent in every song is not an issue... treat people who listen to you with respect and you're already a step ahead of Philip Larkin. Basically, I love playing. I do play... I improvise a lot at home. But I'm just so incredibly relieved when I get enough coherent material to do an album. I'm always amazed I get that far."