Trebles All Round - Mojo - November 2007
TREBLES ALL ROUND

Moving, sparkling triptych from the 62-year-old who just keeps getting better.
By Danny Eccleston.

IS THERE another '60s-vintage muso still operating on a level with Robert Wyatt? One who makes records as good as any in his or her catalogue? For the former Soft Machine drummer, of course, there was no moment of transfïguring pop stardom, no place in some illusory pantheon to preserve — and you sense it is, in part, his humility that keeps his music on the straight and narrow.

Comicopera is typical Wyatt in the way it sits next to you and whispers in your ear, sharing often uncomfortable ideas in that friendly, melancholy voice. In other ways, it's all-new Wyatt, sharing personnel with 2003's Cuckooland (notably, Gilad Atzmon on tenor sax and Paul Weller on guitar) but lacking its predecessor's nuages of keyboards and sounding more immediate, live and quirkily melodic.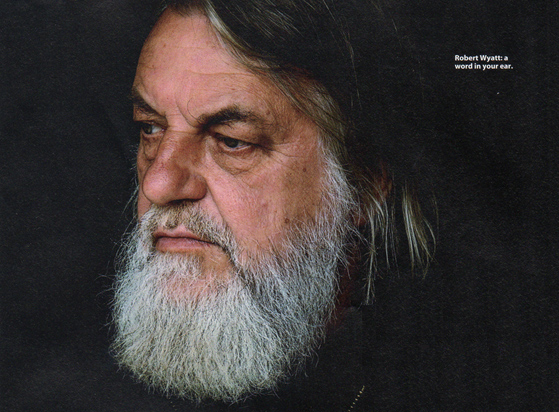 And while Cuckooland split into two parts (with 30 seconds of silent intermission) Comicopera divides into three.

Act 1 — subtitled Lost In Noise — is domestically inclined, incorporating a ravishing, mordant account of a long-term love affair (Just As You Are), with vocals shared by Wyatt and Brazilian chanteuse Mônica Vasconcelos, and lyrics ("It's that look in vour eyes/I know your despise/Me for not being stronger") that bear poet wife Alfreda Benge's trademark lack of sentimentality.

It may yet prove Wyatt and Benge's best claim to have written a "standard".

Part 2 - The Here And Now -gruffly engages with the world. There are deadpan jokes ("It's a beautiful day... but not here") amid simply serendipitous moments of music, especially where Atzmon's tenor, Orphy Robinson's steel pans and Wyatt's plashy percussion interact. In a brilliant gambit, the segment ends with a song from the perspective of a bomber pilot, happily blitzing the crap out of an unspecified Arab homeland, and another from the p.o.v. of the victim, whose hellish disorientation is uncannily summoned in the desperate, repeated refrain: "Something unbelievable is happening to the floor!"

Wyatt says this apocalyptic punctuation mark made an immediate return to Anglophone pop seem a betrayal.

So Act 3 — Away With The Fairies — goes Latin. It's pretty enough, with a moving Hasta Siempre Commandante saluting Che Guevara with help via a swinging Italian combo, and a dense Orphy Robinson vibe instrumental providing variety. But after the in-your-face engagement and subversive pop of Acts 1 and 2, it feels superfluous and defocusing.

Concluding circumlocution aside, Comicopera gets to you quicker and stays with you longer than any previous Wyatt album. Moreover, it's hard to imagine a record more original or full of life, from any artist of any age, emerging this year. It's that damn good.