Art-Rock's Grumpy Comedian - Mojo - december 2008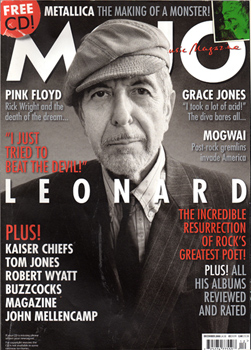 ART-ROCK'S GRUMPY COMEDIAN
B

y his own admission, Robert Wyatt's career has been a summation of his influences, from the outer reaches of jazz, to Ray Charles, Buddy Holly, and music from across the globe. "The underlying ideology of the kind of rock I was involved in was that we started out simple and we got dead clever" he says. "But I was brought up with dead clever. Since then l've been trying to get really simple."

As a child, Wyatt was encouraged to explore literature and music by his left-leaning, culturally enlightened parents. As a young drummer and singer he played in Canterbury band The Wilde Flowers and established himself in Soft Machine from 1966 until 1971. When he fell while climbing out of a window at a party in 1973 and became paralysed from the waist down, it spelt the end for the new line-up of his band Matching Mole, and his career as a kit drummer.

But luckily he was also a talented vocalist, keyboard player and songwriter, which he demonstrated on his first post-accident solo album, Rock Bottom, in 1974. Since then, his output has been a source of delight and fascination; his left-wing politics have never been far from the surface, but his consternation at human behaviour has been balanced by a peculiar Joie de vivre, and since the'90s an increasing number of his lyrics have been written by his partner - and album sleeve designer - Alfreda Benge. His choice of musical collaborators has included Ivor Cutler, Paul Weller, Annie Whitehead and Hugh Hopper, and he has additionally guested with such artists as Ben Watt, Ultramarine and, most recently, French popster Bertrand Burgalat.

With his back catalogue reissued this month by the Domino label, it's time again to listen to Wyatt's lisping, pure-toned vocal style, memorably described by Ryuichi Sakamoto as the "saddest voice in the world".