Floyd, Softs benefit gigs - Melody Maker - November 3, 1973
FLOYD, SOFTS BENEFIT GIGS
PINK FLOYD and Soft Machine are together on the same bill for the first time in over five years. It happens this Sunday, November 4, at London's Rainbow, in two special benefit concerts for Robert Wyatt, former Softs drummer injured earlier this year.
The concerts, in which the Floyd will perform "Dark Side of the Moon," are promoted by the groups themselves and proceeds will go to a benefit fund.
First performance will be at 5pm and the second at 9pm. Tickets are limited to four per per­son and are available by personal application only. They go on sale at 11am today (Thursday). Prices: £5, £2.50, £2, £1.50. £1.


Soft's manager Sean Murphy said he and Steve O'Rourke, Floyd's manager, came up with the idea of a concert independently, but simultaneously.

"These two hands started at the same time in the same situation at UFO and Middle Earth,' said Murphy. "They're both marked out by the public as being extraordinary, different groups from the general theme.

"They have similar atti­tudes and are quite similar people. Robert and Nick Mason are particularly close and the rest of them have always, been friendly. The Floyd felt a great attachment to the Softs and Robert's predicament."

Nick Mason commented: "The scheme is to help Robert get off the ground with another band. That's what it's all about - it's no funeral. It's a special occasion. We're not into doing half-shows like this but there's a good reason for doing this one."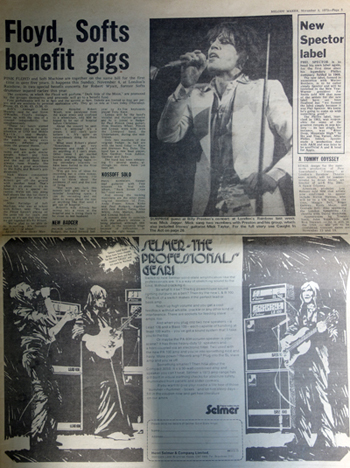 Mike Ratledge of Soft Machine who was at school with Robert, said: "We and the Floyd haven't played on the same bill for years so it's apt that the time we get together it's for Robert. "We're glad to be able to do something. It's fantastic that it's going ahead.
Speaking from Stoke Mandeville Hospital Robert Wyatt, now paralysed from the waist down and confined to a wheelchair, told MM he hoped to be out of hospital before Christmas.

About the concert he said: "Isn't it amazing? It's a dream I still can't quite believe it. It's quite an extraordinary thing for them to do."

What were Robert's plans? "Sometimes I get very depressed and think I can't do anything if I can't drum. Other times I get excited because singing, playing key­boards and making tapes — my secondary interests — have been forced to the front by circumstances.

"I've got lots of ideas for recording but it costs money, it doesn't make money. I've had to think about the problems of rent and the cost of living.

"But with any luck this benefit will give me a few months' breathing space. I can do recording and not have to worry about the rent or anything like that until I get out of hospital."

Robert's wife Alfreda has moved into a room at the hospital and is living there to be close to her husband.