When Soft Machine broke down and cried - Disc and Music Echo 1s - November 29, 1969
WHEN SOFT MACHINE BROKE DOWN AND CRIED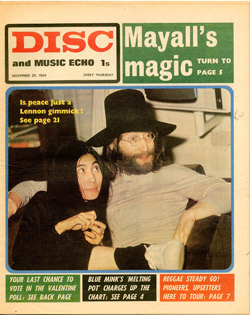 It's impossible to pin an identifiable sound on Soft Machine. Their style has already changed since their last album was out—only a few months ago. And as for their early singles, well, you just Wouldn't recognise them.

Soft Machine themselves forget how long they've been around—five, six, seven years? The two basic originals, Michael Ratledge (keyboards) and Robert Wyatt (drums), say the group was formed when they were at school in Canterbury, got its name some time after that, alternately gathered and lost other members and just choogled along.

At present they have Hugh Hopper on bass. "He was working on a farm in Canterbury," says Robert proudly. "A true country lad. He was about to sell his bass and buy a bicycle and go cycling round France when Michael and I found him. He had a loathing of show-business and it was only by promising not to play any pop we got him." It seems to be this jovial outlook coupled with a genuine dedication to music that- has kept Soft Machine going for so long.

They are well known and popular to a minority in England. ("John Peel has been marvellous, it's been quite embarrassing the way he's helped us along," says Robert.) They also have a large following on the Continent, and were well received when they went around America with the Jimi Hendrix tour last year, after which Mitch Mitchell gave Robert his drum kit.

At the beginning of the emergence of the Underground scene here they were often at UFO, and shared the terrible times with the other groups when they were sent out to mischosen venues.

"We had such terrible times in the early days if we ventured outside UFO," recalls Robert with a shudder. "We'd get microphones and gear bashed up. Six times out of 10 we'd come offstage in tears. I never want that to happen again. "But even in those early days we were on the fringe rather than a part of that scene, like Pink Floyd were. We were spending our summers in Majorca, and other times in Paris with friends on a kind of jazz scene."

Robert says he thinks they have never achieved wide acceptance because they've never bothered with catchy gimmicks.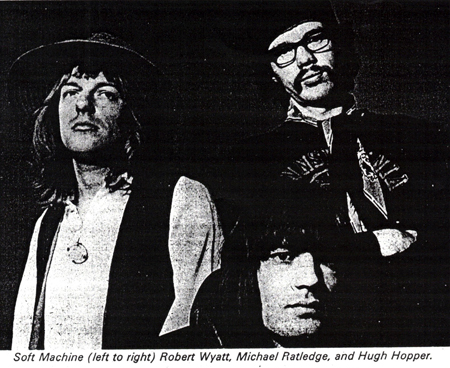 "If you want something badly enough you fight for it, and none of us have ever thought of anything clever to say to the audience. We don't fling our arms in the air or freak out onstage—we haven't bothered to make an impact on the keen little ears all over the country. It's just a purely musical thing for us—we're not revolutionaries or anything."

Although Robert will remember instances when they won a competition in Margate by playing "I Put A Spell On You," "Papa's Got A Brand New Bag" and other delights many years ago, Soft Machine write their own stuff now. "I can't write so I have to get them to write it down for me, and then they write stuff and I stick words on them for records," says Robert.

"I've always liked to work with brilliant people. I've never liked passengers. And I've never worked with anyone who was coasting and feeding off the rest of the group. We're probably not the happiest group—Hugh and I have completely different ideas, but it's worth it to know we feel strongly and it works onstage. Music comes before sociability for me —it's all very well being friends but it doesn't make for good music.

"If Hugh's listening to music it'll be 'Uncle Meat,' Miles Davis and Dizzy Gillespie. Mike listens to American avant-garde stuff or Debussy quartets, and my record collection is Bee Gees, Sly and the Family Stone and Wilson Pickett doing 'Hey Jude.'"

"The thing we have in common is that we really have got clear, strong ideas on what music should be and what we should be doing. This is why none of our groups will ever last, and that's why you can't give Soft Machine a certain noise."

At the moment they're into the jazz scene, and augmenting their trio with Keith Tippett and three of his jazzmen and Lyn Dobson on soprano and tenor sax and flute.