UNCUT - NOVEMBER 2010



Robert Wyatt/Gilad Atzmon/Ros Stephen - The Ghost Within

Neil Spencer

Sur Moving, ethereal and not a little odd – it's the jazz standards songbook as you've never heard it before...

Since his early days in Soft Machine, Robert Wyatt has always occupied a distinct but ambiguous territory, a place where jazz and popular song bleed into each other and are informed by a wider culture of poetry, politics and painting. Who else would sing "I'm A Believer" alongside Billie Holiday's "Strange Fruit"?
The Ghosts Within typifies the uniqueness of Wyatt's oeuvre, though on this occasion it's not just his. Violinist, composer and tango player Ros Stephen plus saxophone tyro and political writer Gilad Atzmon make this an equilateral triangle of talents. Atzmon has previously played on Wyatt's albums and collaborated with Stephen on Gilad With Strings, a project honouring Charlie Parker's dalliance with classical orchestration.
The spirit of bebop maestro 'Bird' Parker is just one that stalks this luscious, plaintive song cycle, which blends original Wyatt compositions with jazz standards like "Round Midnight" and "Lush Life". Its atmospheric arrangements and bravura playing are as much part of its appeal as Wyatt's evergreen vocals, which are little different at 65 from 40 years ago.
The opener, "Laura", encapsulates the collective approach. Written by Johnny Mercer for the movie of the same name, "Laura" has been widely covered by crooners like Sinatra and Nat King Cole, and was given instrumental wings when Charlie Parker covered it. Stephen's strings are more daring than the sweet arrangements laid on in the 1950s, however, with Wyatt likewise opting to sing slightly off-key, Chet Baker-style. Gilad's playing has the fluidity and lyricism of Parker, though elsewhere on the album, his clarinet playing crosses Bird's style with the music Atzmon grew up with in Israel.
In its way The Ghosts Within is quite a shape-shifter. "Lullaby For Irena" and the title track – both Wyatt tunes with lyrics by his long-time partner Alfreda Benge – continue the reflective mood, but "The Ghosts Within" soon heads off on a tango-laden tangent and is sung by Tali Atzmon, Gilad's actress wife.
More surprising still is the way in which "Where Are They Now" goes from a playful, 1920s tune into electro beats with a middle-Eastern rap; it's entertaining enough but its upbeat mood strikes a jarring note on what is essentially a contemplative album.
"Maryan" – which despite the title is a song about salmon returning upriver to spawn – originally appeared on Wyatt's 1998 album Schleep. The version here is slightly less dreamy, more propulsive, with Atzmon's soprano sax dancing against a growling undercurrent of synths.
Thereafter it's jazz evergreens that dominate. "Round Midnight" drifts past on tremulous strings, its melody whistled by Wyatt, picked out on concertina and blown unshowily by Atzmon. "Lush Life", a song written by Duke Ellington's sidekick Billy Strayhorn, is another much-covered favourite, as is "What's New", most famously rendered by Sinatra. Both are played straight, setting discordant strings against Atzmon's melodic saxes and Wyatt's searching, pathos-laden voice. Irresistible. Duke Ellington's "In A Sentimental Mood" is principally a showcase for Atzmon's clarinet, with Wyatt confining himself to a non-verbal singalong.
Wyatt last covered Chic's "At Last I Am Free" back in 1980. This new version, suggested by Stephen, is primarily a mood piece, Wyatt singing just the lines "At last I am free/I can hardly see in front of me" over a trembling wash of strings and wistful concertina. That leaves what must be the album's surprise cut, "What A Wonderful World". Forever defined by Louis Armstrong's original, sentimental take, this was surely a cover version too far, an accident waiting to happen. Yet Stephen, Wyatt and Atzmon turn the song into something fresh and optimistic. Remarkable.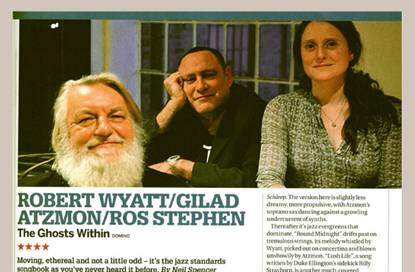 Q&A

Robert Wyatt singing "Wonderful World" is a turn-up…
Gilad ends his set with it, 'cos he's funny like that. I would only attempt it and the other covers with musicians who know what they are doing. Gilad has been a Mozart player, he can be-bop on clarinet, he's amazing. Ros did such a good job it made it hard for me to fuck up. She didn't stick down a blanket of strings, she wrote proper charts and it was interesting negotiating her changes. I sometimes think these young classical players are the most open-minded musicians – they are so unpretentious, with none of that snootiness you used to get.

Why didn't you sing "Sentimental Mood" and "Round Midnight"?
The words aren't as good as the melody – the lyrics have just been stuck on to make them into songs. One I whistled, one I hummed. Me anglicising the songs is just a bit of nip and tuck, not an ideological statement; "Lush Life" is technically hard, a mountain to climb for the unsuspecting singer.

You are still politically involved…
There's a W H Auden line – "We are all conscripts of our time". The types of racism, sexism and gay-bashing we have known are diminished, but there is still a global racism in operation. In October we are planning an event to raise awareness about Gaza.

What else are you up to?
Watching Swedish detectives on TV! I have hundreds of snaps of chords and words waiting to be assembled. I'm 65 now. If I had a proper job I'd be retired.
---



TELERAMA - N° 3171 - 23 OCTOBRE 2010



For the Ghosts Within' - Robert Wyatt

François Gorin

Sur Comicopera, son dernier album en date, le généreux Wyatt avait tellement d'invités (Paul Weller, Brian Eno, Phil Manzanera, Monica Vasconcelos...) qu'on pouvait perdre, au long de cette pièce en trois actes, certaine cohérence. For the ghosts within est un vrai travail collectif : le saxophoniste israélien Gilad Atzmon, sur qui Wyatt ne tarit pas d'éloges, et la violoniste anglaise Ros Stephen, à la tête du Sigamos String Quartet, sont crédités au même titre que notre barbu bien-aimé.

A l'exception notable du morceau titre (où une chanteuse vient le secouer pendant près de huit minutes sur des modulations arabes) et du sifflotant-rappant Where are they now ? qui suit, c'est pourtant la voix de Robert Wyatt qui est au coeur des débats. Voix si familière, inchangée, « de vieil enfant » (image un peu facile et qui demande quelque imagination). Voix douce et rêche, consolante et abyssale. Comment, quarante ans après son premier album ­solo, le plus agité des chanteurs assis arrive-t-il à renouveler son énergie, son envie ? Il prend le chemin des standards et défilent ici Laura, What's new ?, Lush Life, In a sentimental mood. Tous ravivés par la couleur orientale de l'alto d'Atzmon, lustrés par les cordes du quatuor de Stephen et interprétés par Wyatt comme s'ils étaient d'hier. Round midnight, qu'il a déjà chanté, bénéficie d'un traitement instrumental, et l'envoi se fait sur What a wonder­ful world, sans le rocaillement jovial d'Armstrong mais avec toute la candeur désa­busée de Robert le magnifique. Toujours un peu fou sous ses airs de vieux sage.
>>
L'interview sur le site de Télérama
---



LES INROCKS - 16 NOVEMBRE 2010



Les fantômes de Robert Wyatt
Robert Wyatt - For the Ghosts Within'
Domino - Pias

Francis Dordor


Accompagné d'hommes libres, Robert Wyatt enchante en reprenant des classiques de tous temps et de toutes origines. Où il a le courage, malgré tout, de chanter What a Wonderful World.

On est loin de la version foutage de gueule vomie par Nick Cave et Shane MacGowan. Ou de l'esprit grinçant de Michael Moore qui l'étale sur des images de guerre dans Bowling for Columbine. Quand Robert Wyatt reprend le tube de Louis Armstrong What a Wonderful World, c'est bête, mais on a envie d'y croire. On a l'espoir insensé de retrouver l'enchantement originel du monde rien qu'en scrutant le bleu du ciel et la verdoyante parure des arbres. Oublions le vagissement des bébés…

Et quel interprète mieux désigné pour rénover ce standard passé par toutes les intonations, de la plus sarcastique à la plus niaise, qu'un homme de 65 ans qui vient d'en passer trente-sept cloué dans un fauteuil roulant ? Quel messager plus crédible pour porter un optimisme si peu conforme à l'air du temps, si peu raccord avec l'actualité que cet éternel enfant au regard tendre et malicieux, à la voix aérienne, à l'idéalisme politique demandant encore l'impossible ?

"C'est sans doute la chose la plus barrée que j'aie jamais eu à faire. Je ne pratique pas l'ironie ou le cynisme dans mes chansons. Je ne sais pas faire ça. Je suis conscient à quel point les choses vont mal aujourd'hui, combien il est difficile d'être optimiste au plan politique, combien l'espoir tend à se dissoudre en beaucoup d'entre nous. A quoi ai-je pensé en enregistrant What a Wonderful World pour que ça sonne vrai ? Ça va vous paraître idiot mais à des choses aussi simples qu'au sourire d'un enfant, à des amoureux qui se promènent dans le parc…"

Il y a quinze ans, Robert Wyatt a fait une grave dépression qui a failli le faire chavirer définitivement. Il a dû arrêter l'alcool, non sans mal, non sans regrets, et il entend depuis, tout en s'excusant du cliché, "regarder le bon côté des choses". Son idée du bonheur se résume à ça : être chez lui, avec sa femme Alfie et quelques amis, à écouter de vieux disques. A "savourer les fantômes", comme il dit…

Son What a Wonderful World clôt un album savoureux et inclassable : For the Ghosts within'. Allez, ces fantômes de l'intérieur n'ont pas l'air bien méchants. Ils défilent devant nous comme une chenille de vieilles chansons qui ont traversé le mur des époques. Outre Wonderful World, Wyatt y reprend des standards de l'ère du 78t comme Lush Life, What's New ?, Laura, des rengaines ouvre-boîtes pour concentré de nostalgie.

Il siffle sur le Round Midnight de Thelonious Monk. Relance la carrière de Maryan, parmi ses plus belles créations. Rafraîchit ce At Last I Am Free de Chic, enregistré une première fois en 1982, avec cette sincérité fragile s'éternisant en lui. C'est là presque un exercice de style tardif, l'album d'un crooner assis se révélant dans la douceur de l'automne. Une idée pas si folle pour l'ancien batteur de Soft Machine, figure décalée de la scène rock qui a créé sa propre niche où accoucher d'une portée d'albums sans concession, populaires et progressifs.

Et même assez conforme à son goût pour la romance pur sucre – entrevue avec cette reprise d'Insensatez d'Antonio Carlos Jobim sur son avant-dernier album Cuckooland – ou pour la voix soyeuse de Nat King Cole, son chanteur préféré. Il est accompagné ici par les cordes du Sigamos String Quartet, qu'emmène la violoniste Ros Stephen, et par les anches du jazzman Gilad Atzmon, les deux initiateurs de ce projet dont Robert n'est que l'invité de marque.

Un étrange trio pour un projet bien à part, ni vraiment jazz, ni tout à fait pop, un peu classique et même hip-hop. Stephen a cousu des arrangements d'une rare élégance qui habillent de neuf le romantisme un peu suranné des thèmes. Tandis qu'avec sa clarinette et son saxophone Atzmon en orientalise certains, en "parkerise" d'autres. Amis, Atzmon et Wyatt collaborent régulièrement. Militant antisioniste exilé à Londres et blacklisté par le gouvernement israélien, Atzmon déloge de ce nouveau projet des intentions par trop passéistes en y introduisant des sonorités electro et en invitant sur un morceau deux rappeurs palestiniens de Ramallah.

Juste assez pour doter l'ensemble d'un contre-champ, de rendre son anachronisme assumé pertinent dans un contexte de désastre régional aux résonances planétaires. Une manière de dire que la musique ne se divise plus aujourd'hui. Que les peuples feraient peut-être bien d'en faire autant. Qu'"il y a dans de vieilles chansons assez de beauté pour conjurer un peu du malheur ambiant", dit Robert Wyatt. Assez pour témoigner que le monde peut être vraiment wonderful.


>>
L'interview sur le site des Inrocks
---