Robert Wyatt & Friends + Q&A Robert Wyatt - Record Collector - issue 318 - Christmas 2005


ROBERT WYATT & FRIENDS + Q&A ROBERT WYATT


In Concert - Theatre Royal, Drury Lane 1974



Hannibal HNCD 1507/ADV (76:07)

Wyatt's first and last solo gig gets a proper release at last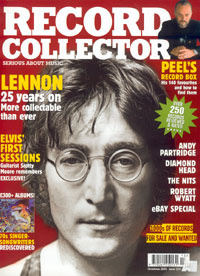 "And now, for Robert Wyatt of Twickenham... Opportunity Knocks!" So Robert's old mate John Peel rounds off his amiable, rambling intro, welcoming onstage yet more of the headliner's extended family of Canterbury Scene musos and art-rocking mukkas.

Just a year after Wyatt's fall from a fifth-floor window left him permanently wheelchair-bound, he bravely took to the stage for this debut solo gig, understandably surrounding himself with characters who would offer great support in every sense. The now-former drummer roped in his 'dream rhythm section' of Laurie 'Gong' Allen, Hugh 'Soft Machine' Hopper and Dave 'Hatfield' Stewart, plus an all-stars cast including Nick Mason, Mike Oldfield, Fred Frith, Julie Tippetts and Ivor Cutler.


Kicking off with a couple of Soft Machine oldies, Wyatt feels his way through all of his classic Rock Bottom LP, heading off into uncharted territory as he warbles, yodels and breaks in his brandnew heartbreaking voice of a child over his own piano and tumbling waves of psychprog jazz. The triomphally shambling party climaxes with I'm A Believer breaking down into Knees Up Mother brown.

Full minutes of encore calls are captured on the CD. But there would be no more.




What are your memories of that night 31 years ago?
All I remember was a euphoric feeling of a whole band who where just going to play my tunes and help me get my songs right, instead of being a bit-part player in other people's musical projects.

This must be one of the most bootlegged gigs ever.
Some of the stuff that went out simply shouldn't have. It's a bit like Dylan complaining about people rummaging around in his dustbin! I didn't want mislead people into thinking that this was a new or perfectly formed recording - I always think it's unfair when it only says in small print 'oh, by the way, this was recorded in a club'.

Back in '74, people must have thought you'de be playing live with this band for years to come.
Yeah, I wish.

Did you know this was the beginning of the end, live-wise?
I can't remember. I don't think ahead like that. I don't think I even knew how to spell 'career'. I left school at 16 and did washing up jobs, I was just amazed you could get a job playing drums in a beat group. I was grateful to string it out for 10 years. After I did Rock Bottom, I thought 'that's all I've got, the tank is now empty - I've now got to sign on and I hope there's a good disability allowance'. But other things cropped up, and other little tunelets appeared in [my] head. I just kept trundling on and, fuck me, 30 years later, I'm still trundling on - extraordinary!


Do I sense a note of regret?
Yes, you do. I'm sure I could have done more gigs than that, and I do wish I had. What I love is that, although it's no a jazz session, they have that jazz sensibility, and they're reacting quite spontaneously to me and to each other,and you can tell every night it would have been different. I would have enjoyed to hear how they dealt with it, different nights at different places. I'm pretty hard on myself and curse the mistakes I've made in my life, but I'm really happy to hear this gig - that it happened at all. And I do think 'blimey, that could've been a whole new thing in the 70's...

Would it have been difficult in reality?
One of the things I do blank out is the difficulties I might have had getting around the world in a wheelchair. To be honest, although I don't think it's tragic, it's bloody inconvenient - going to a place and then finding that you can't get on and off stage without four people to help you, and that you can't fit into the toilet. I realised fairly early on that a regular touring life was out of the question. I'd done that in the 60s and the result was the disintegration of my first marriage - I was just on the road all the time, and that was a plant that collapsed through lack of watering, really. I was already in my late 20s by the time of that concert, and the most exciting thing happening at that time was the fact that Alfie had just married me. My private life started to become the main event in my life...

Derek Hammond