THE WIRE - N° 284 - October 2007

Comicopera - Robert Wyatt (Domino CD)

David Stubbs



"I don't think beforehand, I think afterwards. I find that plans ahead, concepts, limit you," says Robert Wyatt. Which is a little strange, given that Comicopera, divided as it is into three acts, feels decidedly conceptual. It ranks, however, among his finest achievements - indeed, it embraces all of the key themes of his career, ranging in mood from the amiably whimsical to the plaintively despondent, from private joy to political rage.

He's surrounded by old friends here, which could be a recipe for self-indulgence but in this case lends a warmth, a communitarian feel to Act One in particular. Annie Whitehead, Brian Eno, Phil Manzanera, Paul Weller and Gilad Atzmon are among those assembled. On the Anja Garbarek "Stay Tuned" there's a candlelit, vigil-like feel, with all of the musicians breathing as one, pulling in the same direction, no one breaking away from the cuddle. "You, You, You", co-written by Wyatt's partner Alfreda Benge, is a touching paean to interdependence, a hark-back to 1974's Rock Bottom, with Wyatt contributing muted, amateur but eloquent phrases on a cornet.

Act Two sees a shift in mood. It's an altogether jollier affair, with tracks like "On The Town Chair" and their cheerful gait threatening to revert into "Soup Song" from Ruth is Stranger Than Richard. However, like the blazing summer of 1914, this is a misleading prelude, for next cornes "A Beautiful War", with Wyatt as narrator assuming the role of the bomber. Act Three sees Wyatt refuse to sing in the English language, as a protest against the UK's involvement in the Iraq war. (This, after all, is the man who once said that his political inclination was to be a traitor.) The likes of "Del Mondo" and "Hasta Siempre Commandante" are more unravelled in their arrangements, more new jazzy in feel, reminiscent of Charlie Haden's Liberation Orchestra in their internationalist tone. Orphy Robinson's vibraphone solo on "Pastafari" is one of the section's towering moments of terrible beauty, pluming above the fray.

A superb album, in which Wyatt gathers all of his strengths, with the personal and the political, the aesthetic and the ethical are brought together as only he can.



---

JAZZWISE - N° 113 - October 2007

Comicopera - Robert Wyatt (Domino WIGCD202P) ****

Duncan Heining



Comicopera is like meeting an old friend. Conversation begins immediately where it last left off. What's new? How you been? Has it really been that long? No, really? Shame about so and so. It's not that nothing has changed. Static friendships die. The capacity to accommodate difference and change that revitalises the friendship. There are new influences and new songs. There are life-changing events. New loves and old ones rekindled. Life happens somewhere between comedy and tragedy - Comicopera. Robert Wyatt, his partner Alfie Benge and their comrades understand this well. There's observational comedy in 'A Beautiful Peace' and 'A Beautiful War', romantic comedy in 'Just As You Are' and slapstick in Orphy Robinson's 'Pastafari'. We feel pity and loss for Hattie in 'A.W.O.L.', while Richard Dawkins pops up cartoon-like on 'Be Serious' There's solidarity with the oppressed in 'Haste Siempre Comandante' and in Robert's setting of Lorca's 'Cancion de Julieta' and righteous anger in 'Out Of The Blue'. We shared those thoughts and those emotions and then we danced together. Oh, how we danced to 'On The Town Square'. And then we laughed and laughed again, as if we were the very last ones to get the joke of 'Anachronist'.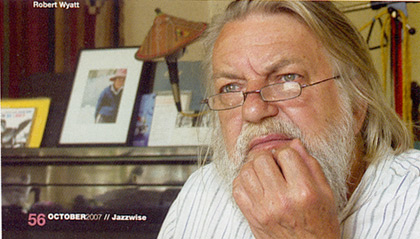 ---

JAZZMAN - N° 142 - Janvier 2008

Comicopera - Robert Wyatt
1 CD Domino WIGCD202P - distribué par PIAS ***

Féerie



Pierre de Choqueuse



Certains lecteurs trouveront peut-être cette chronique déplacée, avançant que la musique de Robert Wyatt relève d'un autre genre que le jazz. Lequel ? Bien malin qui peut répondre. L'ex-batteur de Soft Machine construit disque après disque son propre univers musical et, depuis son accident, pose sa voix très pure au centre de son œuvre. Opéra de poche en trois actes et seize chansons, "Comicopera", son premier vrai disque depuis 2003, fait rêver, envoûte comme un charme puissant. Musiques et langues s'y télescopent. Fraîches comme l'eau d'une source, les mélodies portent les couleurs du jazz, du rock et des îles lointaines. Ce n'est pas son meilleur opus. L'atmosphère s'assombrit au fil des plages. Sa poésie le rend pourtant inoubliable.


---

ROLLING STONE - N° 156 - Oktober, 2007

Comicopera - Robert Wyatt

Jörn Schlüter



Wut statt Nostalgie: Der Weise skizziert in drei Akten die Gegenwart

Seit einigen Jahren vollenden sich für die Veteranen des Swinging London viele Kreise. In den Sechzigern angekommen, erinnern sich die Männer von damals an ihre beste Zeit und an jene Momente, die das eigene Lebensgefühl konstituierten. Full circle, das heißt hier: sich aufs Wesentliche, nämlich die Freundschaft und das Gemeinsame, besinnen. David Gilmour macht eine nostalgisch versunkene Platte mit Phil Manzanera, Roger Waters spielt ausnahmsweise mit Pink Floyd, Brian Eno sucht die Nähe der alten Kumpane. Robert Wyatt ist immens wichtig für diese Selbstvergewisserungen und tief empfundenen Klassentreffen und steht immer ganz oben auf der Liste, wenn die genannten Akteure im Miteinander Trost und Identität suchen. Nun hat Wyatt eine Plätte gemacht, bei der es um dieselben Dinge geht, und natürlich konnte er auf die Hilfe von Eno, Manzanera, Paul Weller und anderen Freunden zählen.
Wyatts Musik, hier auf drei Akte aufgeteilt und mit der üblichen spontanen Intuition aufgenommen, ist freilich nicht nostalgisch - dafür lebt Wyatt viel zu sehr im Moment und ist dem offenen künstlerischen Prozess verpnichtet. « Comicopera » handelt also davon, miteinander zu leben, den anderen wahrzunehmen und den chaotischen Fluss des Lebens insgesamt zu akzeptieren. Die frei entworfenen, oft ungemein intensiven Skizzen, der psychedelische Grundton, die abstrakten Holzbläser-Wolken, das expressive Nichts, der angetäuschte Jazz, all das kommt in der Gegenwart an wie eine Botschaft aus vergangenen Zeiten. Mehr als seine Kollegen ist Wyatt ein lebendes Relikt, der weise Alte aus dem Wald von Canterbury, der den künstlerischen Ausdruck der naiven Mittsechziger-Avantgarde konservieren konnte. Man braucht nur die ersten zwei Lieder, das flächig floydianische « Stay Tuned » und das zärtliche « Just As You Are », um das zu verstehen.
Am Schluss, im orchestralen, atonal dräuenden dritten Akt, wird aus Wut auf Italienisch und Spanisch gesungen — es geht um den Krieg und die britischen Kriegstreiber, die dogs of war, die Wyatt natürlich hasst, insbesondere vor dem Hintergrund des auf « Comicopera » gewählten Sujets. Ein Menetekel.


---

LES INROCKUPTIBLES - 2 octobre 2007

Robert Wyatt - Comicopera
Domino - Pias

Richard Robert



Dans la musique populaire, la coutume veut que les chansons d'amour et les chansons engagées ne soient pas rangées dans le même panier : elle réserve la poésie aux cœurs tendres et la politique aux esprits bien trempés. Comme souvent, la coutume a tort, et Robert Wyatt, qui s'emploie depuis quarante ans à faire vaciller nombre de certitudes, est encore une fois là pour le rappeler. Au milieu des années 60, alors qu'il jouait au sein de Soft Machine, l'Anglais refusait déjà d'être un homme coupé en deux : il ne voulait pas choisir entre sensation pure et réflexion aiguisée, pas plus qu'il ne voulait trancher entre son amour pour la mélodie et son goût pour la recherche sonore. Des dérives solitaires de Rock Bottom (1974) jusqu'au grand chantier collectif de Cuckooland (2004), sa carrière solo n'a cessé de défier les lois de la pesanteur musicale, tout en brouillant les frontières entre songe et réalité. Cloué sur un fauteuil roulant depuis un accident survenu en 1973 (il se jette d'une fenêtre au milieu d'une fête copieusement arrosée), Wyatt est devenu à la fois un observateur pénétrant de son temps, dont le cœur ancré bien à gauche se soulève régulièrement devant les infamies de toutes sortes, et un contemplatif en quête de hauteur, toujours prêt à s'envoler dans les vastes sphères de l'imaginaire. Aujourd'hui, dans Comicopera, son propos gagne encore en ampleur. Entouré une nouvelle fois de fidèles (Brian Eno, Phil Manzanera et Paul Weller, mais aussi la chanteuse Karen Mantler, la tromboniste Annie Whitehead ou le saxophoniste Gilad Atzmon), Wyatt explore dans les grandes largeurs un langage musical qui synthétise son intérêt pour l'harmonie classique, son penchant pour l'improvisation et le swing, et cette sensibilité mélodique à fleur de peau qui en fait l'un des songwriters les plus touchants de sa génération. De sa voix flûtée, il réussit à unifier et à éclairer un disque qui est aussi touffu dans le fond que dans la forme. Découpé en trois actes, Comicopera commence en effet par un bouquet de chansons sentimentales, qui se penchent avec délicatesse sur la mécanique complexe et fragile des relations amoureuses. Il se poursuit avec un tableau saisissant du chaos mondial (avec le désastre irakien pour toile de fond) et s'achève sur une longue bouffée d'onirisme pur, forcément libérateur. Telle est la morale de Robert Wyatt : on ne peut vraiment habiter ce monde qu'en se confrontant à la réalité et en se réservant à tout moment le droit de s'en détacher.


---