| | |
| --- | --- |
| Comicoperando | |
"Comicoperando is dedicated to the music of Robert Wyatt, a singular voice in British music... Tonight, his eccentrically arranged songs will be performed by musicians and friends from like-minded groups like Henry Cow and Caravan. Featured singer Dagmar Krause is praised for her performances of the music of Brecht and Weill"
(Bimhuis programme).


Extraits du concert de l'ensemble Comicoperando - The music of Robert Wyatt emmené par Annie Whitehead le 19 mai 2011 au Het Bimhuis à Amsterdam (Pays-Bas) - entrecoupés d'interviews avec les musiciens (Interview by Aad van Nieuwkerk).
A Pavel Borodin / VPRO Radio 6 production.


Trackslist

- Gloria Gloom

(Bill MacCormick / Robert Wyatt)


- Beware

(Kraen Mantler)


- Alifib

(Robert Wyatt)


- Out Of The Blue

(Alfreda benge / Robert Wyatt)


- Little Red Riding Hood Hit the Road

(Robert Wyatt)



Musicians

- Dagmar Krause - vocals
- Annie Whitehead - trombone, backing vocals
- Karen Mantler - Hammond B3, vocals
- Michel Delville - synth guitar
- John Edwards - double bass
- Chris Cutler - drums



Le premier concert du Comicoperando a eu lieu le 1er mars 2010 au Teatro Comunale Luciano Pavarotti de Modène (Italie) dans le cadre de L'Altro Suono Festival et a fait l'objet d'un enregistrement produit par EXB. D'autres concerts ont eu lieu dont celui du 18 mai 2011 à la Rote Fabrik de Zurich dont l'enregistrement circule également sur internet.
Modène (1er mars 2010)

Little Red Riding Hood Hit The Road
Zurich (18 mai 2011)
Amsterdam (19 mai 2011)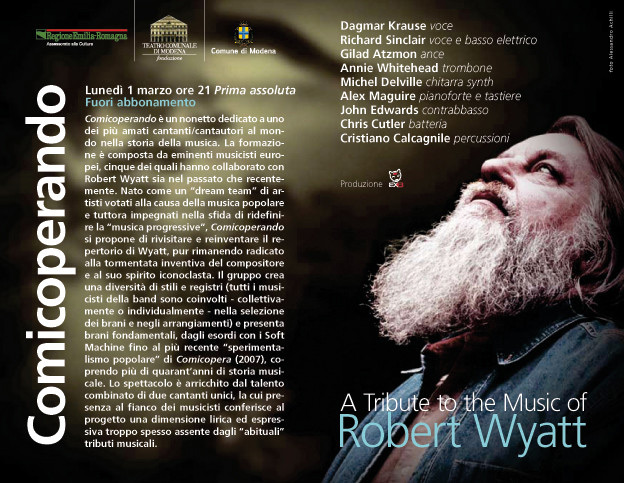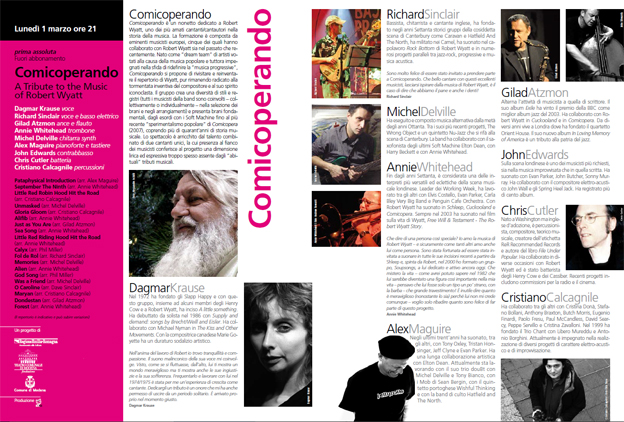 Jaquette de l'enregistrement du concert de Modène.
> Zoom